Anglicans and demons
By Diogenes ( articles ) | Jul 17, 2008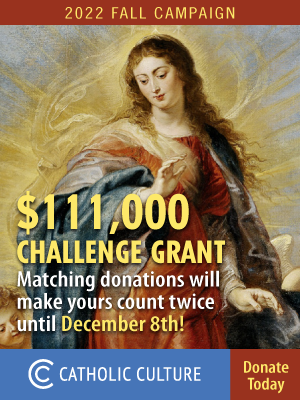 The Episcopalian Bishop of Washington thinks conservatives within the Anglican communion are acting "demonic," the London Times tells us. As the Rt. Rev. John Chane makes his case against the conservatives, allow me a few running comments:
I think it's really very, very dangerous and I think it's demonic...
At least he believes in the devil, then.
...the Episcopal Church has been demonised.
Now I'm confused. Demonised by the demons? That doesn't make sense. (Cf. Mt 12:24-26) Which side are the demons on, and which side represents the true Anglican tradition? That question is worth discussing, I think.
It has been a punching bag and I'm sick of being a punching bag as a Bishop and I'm sick of my church, my province being a punching bag.
Still more confusion. Are you a demon or a punching bag? Speaking in theological terms, there's a difference.
Sound Off!
CatholicCulture.org supporters weigh in.
All comments are moderated. To lighten our editing burden, only current donors are allowed to Sound Off. If you are a current donor, log in to see the comment form; otherwise please support our work, and Sound Off!