The difference between divorce and annulment
By Dr. Jeff Mirus ( bio - articles - email ) | May 09, 2014
A great many people have trouble understanding the difference between divorce and annulment. Some even refer to annulments as "Catholic divorce". The confusion has been exacerbated by abuses in the annulment process. Whenever the discontents of the couple after marrying lead a tribunal, in effect, to invent pre-existing impediments to get them off the hook, this confusion grows worse.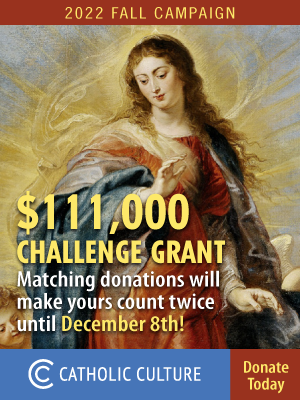 But divorce and annulment are very different things, actually opposite things. A divorce purports to dissolve a marriage. An annulment is a determination that there is no marriage to dissolve. And the reason bad tribunal work obscures the difference is simply this: A divorce proceeding must focus exclusively on the condition of the couple after the marriage ceremony. An annulment proceeding must focus exclusively on the condition of the couple before and during the marriage cermony.
In any process of divorce, the only question is: What deficiencies have emerged since you took your vows? In any process of annulment, the only question is: What deficiencies were present before and during your vows? If those deficiencies were sufficient to make matrimony impossible, then the vows accomplished nothing; marriage never really took place. As such, the putative marriage is declared non-existent. In other words, it is null.
Sound Off!
CatholicCulture.org supporters weigh in.
All comments are moderated. To lighten our editing burden, only current donors are allowed to Sound Off. If you are a current donor, log in to see the comment form; otherwise please support our work, and Sound Off!
Posted by: Brian0101 - Jun. 27, 2017 9:26 PM ET USA

I deleted Father Martin from my FB and Twitter feed last year. His trend of focus and opinion has digressed greatly since then. Unfortunate i say, since he had once, good communication skills for the American Church.

Posted by: rangefar6681 - Jun. 19, 2017 8:32 AM ET USA

"It was appropriate to welcome people to come and pray and call them who they were," [Cardinal Tobin] said. "And later on, we can talk." Call them who they were, eh? What were or are they? People who identify themselves by their same-sex attraction and its "elevation" to a lifestyle? The Church says that who they are is human persons and rejects their false self-identities and their identity politics.

Posted by: timothy.op - Jun. 17, 2017 11:23 PM ET USA

There's a good review of his unfortunate book here: http://www.catholicworldreport.com/2017/06/16/fr-james-martin-s-j-and-the-triumph-of-the-therapeutic-mentality/

Posted by: brenda22890 - Jun. 17, 2017 6:36 AM ET USA

Jesus assured us that the gates of hell would not prevail, and by that, we ought to be prepared for the gates of hell battling foray supremacy. That said, it gets very dark along the way...

Posted by: feedback - Jun. 15, 2017 1:03 AM ET USA

Maybe Fr. Martin is trying to make gay okey?? But that's just my wild speculation.