We have $162,325 to go in our Fall Campaign. Every penny is used to strengthen the Church. See details!
On the replacement of Cardinal Burke, panic and celebration are premature
By Phil Lawler (bio - articles - email) | Dec 20, 2013
Once again Catholics on both ends of the ideological spectrum are telling us that by shuffling the membership of the Congregation for Bishops, Pope Francis has done something revolutionary. Since I don't think that the Holy Father is a revolutionary—I think that one group of pundits is fretting unnecessarily, while another is celebrating prematurely—I'd like to introduce a more balanced perspective.
Is it significant that the Pope removed Cardinal Burke from the Congregation that helps choose new bishops, and in effect replaced him with Cardinal Wuerl? Yes, absolutely.
But what did it signify? That's not quite so obvious. Certainly not as obvious as many commentators have suggested.
Did Pope Francis make the switch because Cardinal Burke has called for enforcement of Canon 915? Or because he is fond of the Latin liturgy? Some people have jumped to one (or both) of those conclusions. Maybe they're right. But surely there could be other reasons.
As John Allen has pointed out, there is no question that Pope Francis was deliberately changing the composition of the Congregation for Bishops, choosing members who would favor a different sort of candidate for episcopal office. As Allen put it, he "shifted the center of gravity" on the Congregation—"not just with the American members, as it turns out, but across the board."
However it is simplistic to see the change as simply a matter of replacing 'conservative' prelates with 'liberals.' The Pope confirmed Cardinal Ouellet, a friend and former student of Benedict XVI, as the prefect of the Congregation. If he had wanted a revolutionary hierarchy, Pope Francis would certainly not have left the Canadian cardinal at the helm. Cardinal Pell remains a member, as does Cardinal Cañizares Llovera. If he meant to undertake a purge of 'conservatives,' the Pope was not very thorough.
So what do the changes mean? My own theory is that the Pope hopes for a more "collegial" approach to the selection of bishops, and he chose cardinals who were likely to reflect the views of other prelates in their countries. Although I admire Cardinal Burke greatly, I cannot pretend that he represents the mainstream within the American hierarchy. (I wish he did!) Cardinal Wuerl is more likely to favor candidates that other American bishops would support.
What evidence do I have to support that theory? None. That is, exactly the same amount of evidence that anyone else has to support any other explanation. As time passes, and new bishops are appointed, we'll probably discern a trend. Until then, let's not mourn a loss—or celebrate a victory—when we actually don't know the score.
An appeal from our founder, Dr. Jeffrey Mirus:

Dear reader: If you found the information on this page helpful in your pursuit of a better Catholic life, please support our work with a donation. Your donation will help us reach seven million Truth-seeking readers worldwide this year. Thank you!

Our Fall Campaign




Progress toward our year-end goal ($162,325 to go):
Sound Off!
CatholicCulture.org supporters weigh in.
All comments are moderated. To lighten our editing burden, only current donors are allowed to Sound Off. If you are a donor, log in to see the comment form; otherwise please support our work, and Sound Off!
Posted by: seewig - Feb. 21, 2015 1:41 AM ET USA

People, especially bishops and cardinals, who are bearing the truth are never welcome, as the truth is hard to wrap in 'collegiality' and 'best social skills'. Perhaps it is time that our bishops and cardinals in the USA annoy "all kinds of people". I can't see any other way. If the faithful can't take the truth, then they will not be able to understand our Faith. Someone is offended all the time by whatever truthful message is uttered. Look at the 'sexuality' disaster.

Posted by: koinonia - Dec. 23, 2013 12:00 PM ET USA

Ours is an age in which little is more common than the propensity for annoyance. In fact the word "annoying " has enjoyed a certain meteoric rise in popularity in recent years. The concepts of objective truth, moral restraints, teaching authority, do's and don'ts et al do not resonate. Thus, absolutes are quite annoying, and those who are incorrigibly resolute in preaching the Creed find themselves among those maligned as most "annoying".

Posted by: jg23753479 - Dec. 23, 2013 11:21 AM ET USA

Cardinal Ouellet is still at the helm. To paraphrase en sens contraire a famous American politician, "I know Cardinal Ouellet and he IS the real thing!" No pope whose design was to "tilt left" would have left him in place for a nanosecond.

Posted by: John J Plick - Dec. 21, 2013 11:49 AM ET USA

European Popes, even the recent ones, have been notorious for misunderstanding America Catholicism, and this particular Pope has unfortunately followed suit. And sadly, this choice is only further evidence of that continuing bad trend.

Posted by: John J Plick - Dec. 21, 2013 11:34 AM ET USA

I am sorry...; Popes make mistakes..., and that was one.... JP

Posted by: rjdobie9424 - Dec. 20, 2013 5:43 PM ET USA

I think Phil is right here too. In my career as a university professor, where collegiality is very important, I have encountered here and there faculty members with whom I am on the same wave-length theologically and philosophically but who I also had to admit did not have the best social skills and would have been disastrous as administrators or chairs.

Posted by: shrink - Dec. 20, 2013 5:11 PM ET USA

Hello Contrary1995. As I recall, John the Baptist, Isaiah, Jeremiah, Elisha were not viewed as very sociable fellows. Neither was Athanasius. Most prophets and reformers have a way of making themselves unliked and unwanted. That happens sometimes when you tell the truth to people who are not open to it… they get "annoyed" as you put it.

Posted by: sswarmka7393 - Dec. 20, 2013 5:11 PM ET USA

"Cardinal Wuerl is more likely to favor candidates that other American bishops would support... As time passes, and new bishops are appointed, we'll probably discern a trend. Until then, let's not mourn a loss—or celebrate a victory—when we actually don't know the score." So don't worry about Bishop Milquetoast until he actually dons his violet zucchetto... My sheep-follow-y senses are all a-tingle.

Posted by: Contrary1995 - Dec. 20, 2013 4:41 PM ET USA

Phil is correct here. Cardinal Burke is not a very sociable fellow as evidenced by his very brief tenure in St. Louis where he annoyed all kinds of people.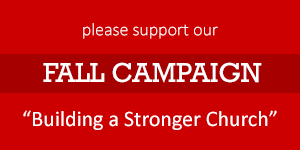 Recent Catholic Commentary
Top Catholic News
Most Important Stories of the Last 30 Days