We have $161,839 to go in our Fall Campaign. Every penny is used to strengthen the Church. See details!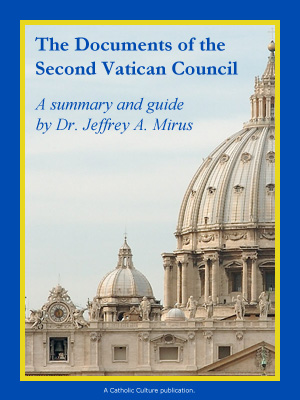 The Documents of Vatican II
A Summary and Guide
by Jeffrey A. Mirus Ph.D.
Book Description
A collected series of 34 articles written on the documents of Vatican II between February and October of 2010. From the Introduction: "This is a series of commentaries on the individual documents of Vatican II, in which I intend to focus very briefly on their key ideas, illustrating their depth and beauty through select quotes, and highlighting the concepts that have become controversial, especially in light of the peculiar thing that happened to them between their approval by Pope Paul VI and their implementation. They were implemented, of course, by All the Usual Suspects—that is, by the nominally Catholic theologians, bishops, priests and sisters who abandoned the Faith without leaving the Church in the heady days of late 20th century secularization, and who have used their power to take as many unfortunate souls with them as possible. Now is an excellent time to review the documents precisely because the tenure of All the Usual Suspects in the halls of Catholic influence is finally nearing an end as ignominious as it was slow in coming."
Table of Contents
A funny thing about Vatican II . . .
The English Editions of the Documents of Vatican II
On the Liturgy: Introduction
On the Liturgy: Overview & General Norms
On the Liturgy: Particular Norms & the Eucharist
On the Liturgy: Related Concerns
On Social Communication
On the Church: Introduction
On the Church: The Mystery
On the Church: The Bishops
On the Church: Lay Holiness
On the Church: Eschatological Identity
On the Church: Mary
On Eastern Catholics
On Ecumenism: Principles
On Ecumenism: Practice
On Bishops: The Bishops Themselves
On Bishops: Episcopal Collaborators
On Religious Life
On Priestly Training
On Christian Education
On Non-Christian Religions
On Divine Revelation
On the Lay Apostolate: Mission
On the Lay Apostolate: Implementation
On Religious Freedom
On Missionary Activity: Principles
On Missionary Activity: Mission Work
On Priests: Priestly Ministry
On Priests: Priestly Life
On the Church and the World: Man's Calling
On the Church and the World: Community and Activity
On the Church and the World: Special Problems
Afterword: The Mythology and the Reality of Vatican II
Appendix
Doctrinal Development on Religious Liberty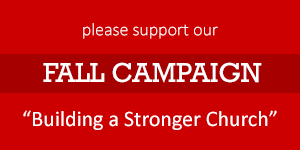 Recent Catholic Commentary
Top Catholic News
Most Important Stories of the Last 30 Days