Catholic World News
All are called to be saints, Pope tells audience
April 13, 2011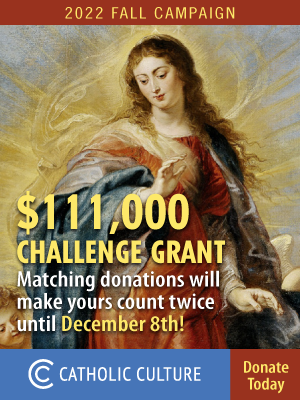 At his public audience on Wednesday, April 13, Pope Benedict XVI concluded a two-year series of weekly talks on the saints, saying that the saints are "beacons for many generations."
The liturgical calendar gives Catholics the opportunity to recall the canonized saints, the Pope said, and to profit from their examples. However, he continued, his own faith has been strengthened not only by the great saints who were the subject of his weekly talks, but also by others whose common faith has inspired him:
I look also to "simple" saints, those good people I see in my life who will never be canonized, who are normal people, so to speak, without visible heroism, but in whose everyday goodness I see the truth of faith.
Sanctity of life, the Pope told his audience, is not something "reserved to a few chosen ones." On the contrary, he cited the teaching of Vatican II that everyone is called to sanctity. To be a saint, he said, "does not consist in the achievement of extraordinary feats, but in uniting oneself with Christ." It means responding to "the action of God's Spirit which animates us from within."
Moreover, the Pope said, personal sanctity is the only true measure of a human life.
---
For all current news, visit our News home page.
---
Further information:
Sound Off!
CatholicCulture.org supporters weigh in.
All comments are moderated. To lighten our editing burden, only current donors are allowed to Sound Off. If you are a current donor, log in to see the comment form; otherwise please support our work, and Sound Off!