Catholic World News
Report: leading Army priest says chaplains will help soldiers accept gay lifestyles
February 18, 2011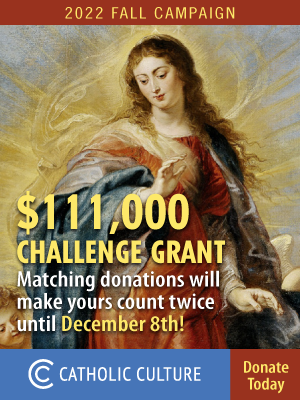 The deputy chief of chaplains of the United States Army told fellow army chaplains on February 17 that "the upcoming end to 'don't ask, don't tell,' which will allow openly gay and lesbian individuals to enlist and for soldiers who have hidden their preferences to come out, if they want, means Army chaplains will have a major part in preparing the service to accept the lifestyles of some," according to an Arizona newspaper's summary of his remarks.
Father Donald Rutherford, a priest of the Diocese of Albany who holds the rank of brigadier general, reportedly added that "you don't have to agree with them, you will respect them and help them."
In 2003, Father Rutherford signed a petition calling for optional celibacy for priests.
---
For all current news, visit our News home page.
---
Further information:
Sound Off!
CatholicCulture.org supporters weigh in.
All comments are moderated. To lighten our editing burden, only current donors are allowed to Sound Off. If you are a current donor, log in to see the comment form; otherwise please support our work, and Sound Off!
Posted by: Anselm - Feb. 21, 2011 4:32 PM ET USA

The original articles clearly states that CH (BG) Rutherford is directly quoting what the Secretary of Defense and the law states. The Chaplain is to assist in the education of the new policy. Not encourage the lifestyle. He also did not state that Chaplains have to help other accept the lifestyle. He actually stated, "Chaplains will not be required to violate their respective faith convications. They will be required assist the Commanders in the education of the new law."

Posted by: - Feb. 19, 2011 10:45 AM ET USA

What does he envision "help" for homosexual troops to be? Encourage their life style? Encourage them to be chaste?

Posted by: unum - Feb. 19, 2011 5:55 AM ET USA

I'm not sure why the unrelated sentence about celibacy is included. Employees wanting to discuss a personnel policy is not news. On the other hand, it appears that General Rutherford has learned that "go along to get along" is the path to promotion in the military. It is too bad that Father Rutherford agreed and is accountable for the scandal that is resulting from General Rutherford's remarks.

Posted by: dannac - Feb. 19, 2011 4:50 AM ET USA

God bless our military chaplains. This is but another challenge to their mission and ministry. Father Rutherford's remarks seem appropriate, regardless of 2003's signature.

Posted by: Defender - Feb. 19, 2011 1:11 AM ET USA

Seems like there is no such thing as scandal anymore - I guess when it becomes the norm this is what happens.

Posted by: Anselm - Feb. 18, 2011 10:38 PM ET USA

First: Thank-you Catholic Culture, you have a job waiting at the NY Times. What does the 2003 comment have to do with the article? Second: Chaplain Rutherford directly quoted the DADT Report published by the Secretary of Defense. So, he was not giving his own opinion but the directions (ie: "marching orders") clearly stated in the instructions that is widely available. Third: For those who commented, I suggest you read some Catechism and Scripture. The part about beams in eyes.

Posted by: lauriem5377 - Feb. 18, 2011 8:47 PM ET USA

Who is Father Rutherford's religious superior and what is he doing about this?

Posted by: Chestertonian - Feb. 18, 2011 6:41 PM ET USA

We are about to see a massive loss of military personnel due to this change of policy. The military are, by and large, a very conservative group of people, who will not compromise their religious beliefs to be PC. And, I very much doubt that we'll see a large influx of gays into the military to replace them. This priest will be cooperating with the enemy, left to his own devices. He should be counseled by his bishop and/or removed.

Posted by: mgreen32234 - Feb. 18, 2011 6:40 PM ET USA

So when two male soldiers ask Fr. Rutherford to marry them, will he?

Posted by: - Feb. 18, 2011 4:44 PM ET USA

His Bishop in the Diocese of Albany is Bishop Hubbard. Good luck with that one. On the other hand, the Archdiocese of the Military Services, under which Fr. Rutherford falls for military matters, is led by Archbishop Broglio, who publicly warned against dropping the "don't ask, don't tell" policy for fear of the threats to religious freedom that would invariably result.

Posted by: pauljworthington637024 - Feb. 18, 2011 1:01 PM ET USA

And, the first time a straight soldier recommends reparative therapy, or even says he will pray that the homosexual soldier be healed of his abnormality, will be drummed out of the service faster than a lie dropping from Obama's mouth. Mark my words.

Posted by: Hal - Feb. 18, 2011 12:13 PM ET USA

Oh, good grief. Is there a Bishop in the house? Anyone? Bueller?