Catholic World News
Philadelphia Catholic legal award goes to Senator Casey; protest outside cathedral
October 22, 2008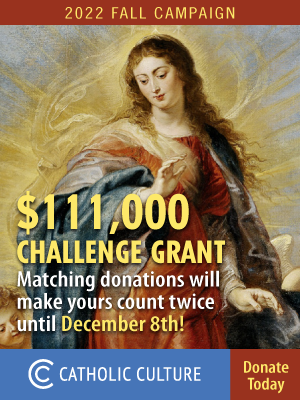 Philadelphia's St. Thomas More Society presented its annual award on Monday to Sen. Robert Casey, Jr. of Pennyslvania. Twenty-five pro-life activists protested outside the annual Red Mass at the cathedral. 'We're not here to protest the archdiocese, but to raise awareness about Mr. Casey's position,' said Edel Finnegan, director of the Pro Life Union.
Sen. Casey, who describes himself as pro-life, nonetheless has voted to provide funds to Planned Parenthood. He has also voted against the Hyde Amendment and the Mexico City Policy, which restrict federal funding of abortions nationally and internationally. The senator also actively supports the campaign of Sen. Barack Obama. The St. Thomas More Society said in a statement that 'in deciding to present the award to Sen. Casey, the society took note of his distinguished career in public service and his profound commitment to the Catholic Faith as demonstrated by his pro-life voting record in U.S. Senate, especially in connection with embryonic stem cell research.'
In his homily at the Red Mass, Cardinal Rigali, in part quoting the US bishops' Faithful Citizenship document, noted, 'There are some things we must never do, as individuals or as a society, because they are always incompatible with love of God and neighbor. These are called intrinsically evil actions. They must always be opposed and must never be supported or condoned. A prime example is the intentional taking of innocent human life, as in abortion or euthanasia. In our nation, abortion and euthanasia have become preeminent threats to human dignity because they directly attack life itself, the most fundamental human good and the condition for all others. It is a mistake with grave moral consequences to treat the destruction of innocent human life merely as a matter of individual choice. A legal system that violates the basic right to life on the grounds of choice is fundamentally flawed. Friends: you each have a unique and extraordinary opportunity to work with zeal and do your part to help correct and perfect our legal system.'
---
For all current news, visit our News home page.
---
Further information:
Sound Off!
CatholicCulture.org supporters weigh in.
All comments are moderated. To lighten our editing burden, only current donors are allowed to Sound Off. If you are a current donor, log in to see the comment form; otherwise please support our work, and Sound Off!