Catholic World News
Priest questions President Obama about jobs at Iowa appearance; bishop present
October 01, 2010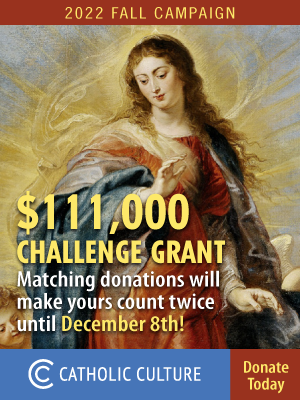 Speaking in the backyard of a Catholic family in Des Moines on September 29, President Barack Obama discussed the economy and other domestic policy issues. Five of the 80 guests were permitted to ask questions; one of the five was Father Michael Amadeo, pastor of Holy Trinity Parish, who asked how the president's policies could assist those who have lost manufacturing jobs.
The president "said many manufacturing jobs will not return because factories are more efficient and require fewer workers, and some jobs are moving overseas where wages are cheaper," according to Catholic News Service. "His advice is for the unemployed to keep up their skills so they'll be ready when the economy becomes strong again. He singled out clean energy as a promising business for the future."
The Des Moines Register reported that Bishop Richard Pates was among the 80 guests.
---
For all current news, visit our News home page.
---
Further information:
Sound Off!
CatholicCulture.org supporters weigh in.
All comments are moderated. To lighten our editing burden, only current donors are allowed to Sound Off. If you are a current donor, log in to see the comment form; otherwise please support our work, and Sound Off!
Posted by: unum - Jun. 20, 2012 7:57 AM ET USA

Let's see, now we have political bishops (USCCB letters to Congress), political priests (pastors at Obama events) and political nuns(bus protest of federal budget cuts). Who is teaching the faith to our children and adults? Who is caring for the poor and teaching by example? I don't recall Christ calling his followers to political protest in the Sermon on the Mount. I just remember a call to show His love to those less fortunate by helping them. How does a protest show His love?

Posted by: impossible - Oct. 02, 2010 6:51 PM ET USA

Their hero?

Posted by: stpetric - Oct. 01, 2010 7:50 PM ET USA

Just a not on usage: "backyard" is an adjective, as in a "backyard barbecue". That bit of grass behind the house is a back yard.

Posted by: filioque - Oct. 01, 2010 6:34 PM ET USA

A softball question about jobs. Is that the best the priest and the bishop could do? Better they had been out front picketing an event with the most pro-abortion politician in America.