Catholic World News
Pope speaks on proper role of theological debate
November 04, 2009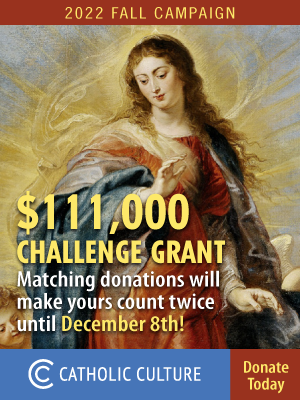 At his weekly public audience on November 4, Pope Benedict XVI used the debate between St. Bernard of Clairvaux and Abelard to illustrate the proper role of theological inquiry. Debate on theological issues is healthy, the Holy Father said, as long as it is informed by faith and guided by the magisterium. The proper goal of such debates, he added, is "defending the the faith of the Church and ensuring the triumph of truth in charity."
The 12th-century debate between St. Bernard and Abelard was revealing, the Pope said, because it showed two different approaches. St. Bernard championed monastic theology and worked toward a single goal: "that of promoting the living and intimate experience of God." Abelard, who worked from the perspective of scholastic theology, heavily emphasized the role of reason, and that emphasis made his understanding of the Trinity "dangerously fragile," the Pope said.
Pope Benedict took pains to note that Abelard, although he was known for his affair with Heloise and his clashes with Church authorities, finally accepted the authority of the magisterium and "died in full communion with the Church." It would be a mistake, the Pontiff said, to dismiss his contributions to theology-- which include the introduction of the term "theology" itself.
---
For all current news, visit our News home page.
---
Further information:
Sound Off!
CatholicCulture.org supporters weigh in.
All comments are moderated. To lighten our editing burden, only current donors are allowed to Sound Off. If you are a current donor, log in to see the comment form; otherwise please support our work, and Sound Off!