Catholic World News
Key US bishops: No ecclesiastical sanctions against Notre Dame
June 18, 2009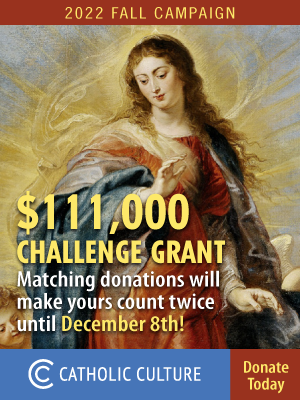 On the first day of their three-day meeting in San Antonio, the bishops of the United States heard reports on the "great continental mission" taking place in Latin America and on the defense of traditional marriage. In separate interviews with John Allen, two key bishops-- Bishop Gerald Kicanas of Tucson, vice president of the United States Conference of Catholic Bishops, and Auxiliary Bishop Thomas Curry of Los Angeles, chairman of the Committee on Catholic Education, said there would be no sanctions against the University of Notre Dame for honoring President Barack Obama at its May 17 commencement ceremony.
While repeatedly stating that the local bishop is the proper authority to address such issues, Bishop Kicanas appeared to undercut Fort Wayne - South Bend Bishop John D'Arcy's interpretation of a 2004 bishops' document. The document-- "Catholics in Political Life"-- states that "the Catholic community and Catholic institutions should not honor those who act in defiance of our fundamental moral principles. They should not be given awards, honors or platforms which would suggest support for their actions."
After the university's president had said that this statement does not apply to non-Catholics such as President Obama, Bishop D'Arcy countered, "The statements which Father Jenkins has made are simply wrong and give a flawed justification for his actions. I consider it now settled-- that the USCCB document, 'Catholics in Public Life,' does indeed apply in this matter."
Bishop Kicanas, unlike Bishop D'Arcy, allows that the statement may be ambiguous. Asked "Will there also be discussion about what the bishops should do when a university doesn't follow your policies?", Bishop Kicanas responded:
It may be that there was some lack of clarity about the statement itself. It did refer to 'Catholic politicians' in the title. Certainly, most bishops probably understood it in a broader context, but there could have been some misunderstanding of that. Again, there's a need for more conversation with presidents of universities to help clarify what the bishops' concerns are and if some accord could be reached.
Asked, "So far as you're aware, there's no push among the bishops to punish Notre Dame in some way?" Bishop Kicanas said, "I haven't heard that. There could be a bishop who would say that, but I haven't heard it."
The interview continued:
You know this is a question many ardently pro-life Catholics are asking: If a university deliberately defies the bishops' guidelines, don't there have to be consequences? Otherwise, what's the point of issuing the statements?

You used the phrase 'deliberately defied.' I think that's a pretty harsh statement. If that's actually what they did, I think Bishop D'Arcy would feel affronted.

How else would you read it?

I don't know. That's a judgment, that they 'deliberately defied' the bishops. They may have interpreted the document differently. … The first thing is to be sure of what we are indeed saying, what we're agreeing to, and then bringing that to the institutions within one's own diocese. It is a dialogic thing.

Ultimately, I suppose, if someone is defiantly standing against what the church teaches, a bishop would have to take some steps … i[f] they're claiming to be Catholic, but defiantly opposing what the magisterium is saying is important in terms of our teaching. I think as bishops we have to understand exactly what we were saying, and then the local bishop has to decide how that gets played out in his own diocese.
Bishop Curry agreed that there would be no ecclesiastical discipline of the University of Notre Dame. Asked, "Do you sense any push among the bishops for punitive measures against Notre Dame?", he replied:
No, I don't find any general consensus about that at all. Quite the contrary. I can't speak for everybody, and certainly some people feel angry and betrayed, but I don't find that that's a consensus, either on our committee or among anyone else.

In fact, although it's still in the preliminary stages and we haven't made any decisions, but Notre Dame is very interested in Catholic schools, especially K-12, as is our committee, and we hope in the future that we'll be cooperating with Notre Dame and other universities to support the schools. Sometimes if we can focus on issues like that, it can change the atmospherics, helping us remember that we're all on the same side.
---
For all current news, visit our News home page.
---
Further information:
Sound Off!
CatholicCulture.org supporters weigh in.
All comments are moderated. To lighten our editing burden, only current donors are allowed to Sound Off. If you are a current donor, log in to see the comment form; otherwise please support our work, and Sound Off!