Catholic World News
Cardinal Wuerl decries 'aggressive gender ideology'
June 02, 2016
Lamenting "aggressive gender ideology" and criticizing the Obama administration's recent letter on the use of bathrooms and locker rooms by public school students who state they are transgendered, Cardinal Donald Wuerl of Washington emphasized in a recent blog post that the human body "is not extraneous, but goes to our very essence."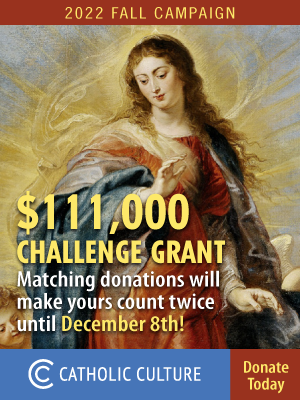 "Before all else in this world, before we are able to form a single thought or make any decisions, from the very moment of our origin and conception, we have a body that is intrinsically sexually differentiated and constituted male or female in a way that cannot really be changed," he said. "Furthermore, the body reveals that man and woman are made to complement one another – they are made for love, the reality that forms the basis of family."
"This is the objective, intrinsic, self-evident truth of who and what we are," he continued. "Revealed in the body and discernable by right reason, this truth thus applies to all regardless of religious beliefs. Also, one's subjective choices or beliefs cannot alter this reality – what is revealed in the body as one sex cannot be changed to the other."
Stating that the Church must be "a beacon of truth in the darkness," Cardinal Wuerl added:
One of the enervating forces of our culture is the assertion that everything is up for grabs. What was once grasped as objective truth is now dismissed as mere construct, and there is a growing relativism that seeks to reconstruct the most fundamental realities.

Last year we saw a societal redefinition of marriage and family. Today, the concept of humanity itself is called into question with an aggressive "gender" ideology which holds that whether a person is male or female is not an objective reality, but is subjectively determined. Increasingly, those who do not go along with this new order are denounced and ostracized as bigoted. It is as if we all must now affirm that the world is flat lest we be condemned of discrimination.
---
For all current news, visit our News home page.
---
Further information:
Sound Off!
CatholicCulture.org supporters weigh in.
All comments are moderated. To lighten our editing burden, only current donors are allowed to Sound Off. If you are a current donor, log in to see the comment form; otherwise please support our work, and Sound Off!
Posted by: Gregory108 - Jun. 05, 2016 11:27 AM ET USA

Let's elect more candidates from that Party that "opposes war and nuclear weapons, supports unbridled illegal immigration, "supports" the poor by extending every kind of welfare, advocates for the environment and against global warming, or climate change or whatever it's called this week, by promoting every form of energy that is renewable, but also as yet unavailable," and we will have more of this sort of "societal redefinition." Let's join the Bishops in supporting the "seamless garment!"

Posted by: k_cusick1963 - Jun. 03, 2016 8:11 AM ET USA

It seems common sense has been thrown out the window. Who's going to clean up the messes created by this convoluted thinking which has now become the "law of the land?"