Catholic World News
CDF rules that transgendered person is not permitted to be baptismal sponsor, says Spanish bishop
September 03, 2015
The Congregation for the Doctrine of the Faith has ruled that a woman who identifies herself as transgendered is not permitted to serve as a baptismal sponsor, Bishop Rafael Zornoza Boy of Cádiz and Ceuta (Spain) said in a statement.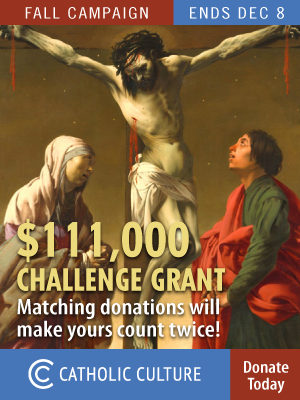 The bishop originally ruled that a 21-year-old woman who identifies herself as a man was not allowed to serve as her nephew's godparent. The woman has not yet undergone a sex-change operation, according to a Spanish media report.
Less than two weeks later, the prelate reversed his decision and permitted the woman to serve as a godparent, a local newspaper reported.
In his new statement, the bishop said he referred the case to the Congregation for the Doctrine of the Faith. In its response, the Congregation, citing Canon 874, stated that the person objectively does not meet the requirements of being a godfather or godmother.
Canon 874 states that the baptismal sponsor "must be suitable for this role" and must live "a life of faith which befits the role to be undertaken."
---
For all current news, visit our News home page.
---
Further information:
Sound Off!
CatholicCulture.org supporters weigh in.
All comments are moderated. To lighten our editing burden, only current donors are allowed to Sound Off. If you are a current donor, log in to see the comment form; otherwise please support our work, and Sound Off!
Posted by: JimK01 - Sep. 03, 2015 5:41 PM ET USA

And this bishop didn't know that?!!!

Posted by: Randal Mandock - Sep. 03, 2015 4:07 PM ET USA

The Catholic faith is sticky like that. Always hung up on discipline, following the rules, canon law, following Christ, stuff like that. Sheesh.