Catholic World News
'Rend your hearts': Lenten message of the future Pope Francis
March 15, 2013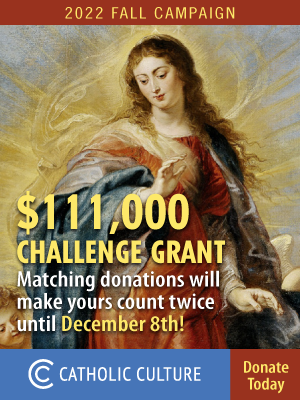 In his most recent Lenten message to the Archdiocese of Buenos Aires, Cardinal Jorge Mario Bergoglio repeatedly urged the faithful to rend their hearts.
"Little by little we get used to hearing and seeing, through the media, the black chronicle of contemporary society, presented almost with perverse enjoyment and we also get used to touching it and hearing it around us and in our own flesh," he wrote. "The drama is in the street, in the neighborhood, in our home, and, why not, in our heart."
"Rend your hearts, not your garments, artificial penance without guarantees for the future," he continued. "Rend your hearts, not your garments, formal and fulfilled fast which continues to keep us satisfied. Rend your hearts, not your garments, superficial and egoistic prayer which does not reach the depth of our life to allow it to be touched by God."
Cardinal Bergoglio added:
Rend your hearts to say with the Psalmist: "we have sinned." "Sin is the wound of the soul: Oh poor wounded one, recognize your Physician! Show him the wounds of your guilt. And given that our secret thoughts are not hidden from Him, make him hear the groan of your heart. Move Him to compassion with your tears, with your insistence. Importune Him! May He hear your sighs, make your pain reach Him so that, in the end, He can say to you: The Lord has forgiven your sin" (Saint Gregory the Great).

This is the reality of our human condition. This is the truth that can bring us closer to genuine reconciliation with God and with men. It is not about discrediting self-esteem but about penetrating the depth of our hearts and of assuming the mystery of suffering and pain which has bound us for centuries, thousands of years, always.
---
For all current news, visit our News home page.
---
Further information:
Sound Off!
CatholicCulture.org supporters weigh in.
All comments are moderated. To lighten our editing burden, only current donors are allowed to Sound Off. If you are a current donor, log in to see the comment form; otherwise please support our work, and Sound Off!