Catholic World News
Obama 'compromise' angers pro-life activists; USCCB response muted
February 10, 2012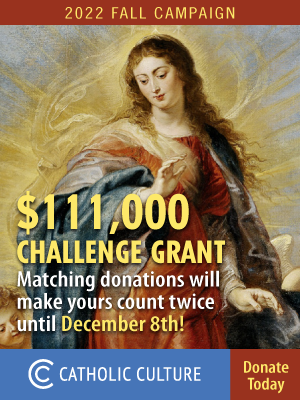 Seeking to defuse a political uproar over mandatory coverage of contraception and sterilization in health-care insurance programs, the White House has announced an amended policy, portraying it as an "accommodation" to religious groups. But Catholic activists and pro-life leaders said that the amended policy remains an attack against religious liberty.
The revised plan, announced by President Obama on February 10, attempts to shift the burden of contraceptive coverage from employers to insurers. While some religious employers will be exempt from covering contraception in their health-care policies, their insurance companies will be required to furnish contraceptives to employees of those religious institutions at no additional cost.
The new White House plan drew immediate support from Sister Carol Keehan, the head of the Catholic Health organization, who said that the "accommodation" by the White House "has responded to the issues we identified that needed to be fixed." Sister Keehan--who had been an influential supporter of the Obama administration's health-care plans, breaking publicly with the US bishops to urge passage of the legislation—had been briefed in advance by the White House about the new plan, and was ready to offer a public statement that was interpreted by many reporters as an indication that Catholics would support the new plan.
Tellingly, pro-abortion groups such as Planned Parenthood and NARAL Pro-Choice America also threw their support behind the revised plan.
Archbishop Thomas Wenski of Miami, on the other hand, quickly said that the administration's attempt at a compromise was "too little, too late." Rep. Chris Smith of New Jersey, the head of the pro-life caucus in Congress, said that the new plan "is the discredited old policy, dressed up to look like something else."
"It remains a serious violation of religious freedom," said Rep. Smith. He pointed out that the new plan still requires contraceptive coverage, and although insurance companies pay for that coverage, employers must pay premiums to those insurance companies. "It's a shell game," commented Robert Destro, a Catholic University law professor.
The Becket Fund, which representatives three plaintiffs who have already filed suit to block implementation of the contraceptive mandate, described the revised plan as "a false 'compromise' designed to protect the President's re-election chances, not to protect the right of conscience."
In a fuller analysis of the revised plan, the Becket Fund observed that the exemption offered to religious groups is tightly defined, covering only a small proportion of non-profit groups. Moreover, many large non-profit groups carry their own insurance, so that they would in effect be the "insurance companies" now obligated to pay for contraceptives. Finally, the Becket Fund noted that "money is fungible, and many religious organizations may still object to being forced to pay money to an insurance company which will turn around and provide contraception to its employees for free."
Although the new Obama policy was introduced as a "compromise," and President Obama insisted that it answered concerns about religious liberty, a group of prominent pro-life scholars denounced the plan as "morally obtuse." An open letter signed by former US ambassador to the Vatican Mary Ann Glendon, Princeton professor Robert George, Notre Dame law professor Carter Snead, Catholic University President John Garvey, and Yuval Levin of the Ethics & Public Policy Center explained their objection:
This so-called "accommodation" changes nothing of moral substance and fails to remove the assault on religious liberty and the rights of conscience which gave rise to the controversy. It is certainly no compromise. The reason for the original bipartisan uproar was the administration's insistence that religious employers, be they institutions or individuals, provide insurance that covered services they regard as gravely immoral and unjust. Under the new rule, the government still coerces religious institutions and individuals to purchase insurance policies that include the very same services.
In light of the unhappy response from other pro-life leaders, the immediate reaction from the US bishops' conference was curiously muted. A USCCB statement said that the group "sees initial opportunities in preserving the principle of religious freedom" in the new plan, but "continues to express concerns."
New York's Archbishop Timothy Dolan, the president of the US bishops' conference, said that the USCCB would reserve judgment on the plan until the details were available. But he described the White House move as "a first step in the right direction."
"We hope to work with the administration to guarantee that Americans' consciences and our religious freedom are not harmed by these regulations," Archbishop Dolan concluded.
---
For all current news, visit our News home page.
---
Further information:
Sound Off!
CatholicCulture.org supporters weigh in.
All comments are moderated. To lighten our editing burden, only current donors are allowed to Sound Off. If you are a current donor, log in to see the comment form; otherwise please support our work, and Sound Off!
Posted by: impossible - Feb. 13, 2012 8:08 PM ET USA

If only the issue were a push for reinstitution of Black slavery, the USCCB would no doubt remove all ambiguity and equivocation from Faithful Citizenship in their Spring meeting. Then they might even suggest to the Catholic laity that the answer is in the voting booth come November and that any politician supporting it is disqualified from the Catholic vote no matter his/her stands on matters of prudential judgment - you know, "those other serious reasons for voting of the pro-slavery guy.

Posted by: james-w-anderson8230 - Feb. 10, 2012 11:10 PM ET USA

The the Bishops are naive if they think they can negotiate with the purveyors of death. This is a bare knuckles fight and it is time for them to speak plainly and forcefully. It is also way past the time for Sister Carol Keehan to be removed from her position and from the church. She is clearly on the side of the purveyors of death not on the side of life.

Posted by: Frodo1945 - Feb. 10, 2012 8:52 PM ET USA

This compromise also shows that Obama does believe in a free lunch. It comes from the fact that he has never had to meet a payroll or earn a living. Just demand that the Insurance Companies pay for it. And this is only the beginning of Obamacare. I hope the Bishop's naivete has worn off. There is no moral imperative to squander goodwill on a person who has proven to be dishonest in dealing with you.

Posted by: wolfdavef3415 - Feb. 10, 2012 8:11 PM ET USA

Let's look this in the eye. The policy, as reviewed by the administration of Obama, was so blatantly unconstitutional that as soon as a legal brief was filed by EWTN, the rule was changed. That should tell us what we need to know about this Administration's views on religion and the Constitution. Caught with their hand in the cookie jar.

Posted by: jeremiahjj - Feb. 10, 2012 7:57 PM ET USA

This is a farce. It is like laundering money. Or maybe a felon getting a straw man to buy him a handgun. Directly or indirectly, the church is forced to participate in a program that violates its conscience. Bishops, if you don't continue your pressure on this evil president I am going to rethink my participation in your church. Obama has not compromised one iota; don't you either!

Posted by: TheJournalist64 - Feb. 10, 2012 7:47 PM ET USA

The Obama machine's deception plan on contraception is a constitutional challenge waiting to be picked up. First, it is essentially an establishment of religion. If you are a religious organization, it gives you rights that a non-religious organization does not have--to force your insurance company to pay for something and not be reimbursed by you. Second, it sets up a 14th amendment challenge by treating employees of religious institutions who object to paying for murder differently.

Posted by: benniep5 - Feb. 10, 2012 6:19 PM ET USA

The administration did not have the constitutional authority to create the mandate to begin with, so all the adminstration has given Catholics is nothing more then a choice to accept the administration's "self-proclaimed" authority to do has it pleases, to give or take away our right of religious freedom, as well as to give or take away any other right protected by the constitution as it pleases. To accept that such an authority is to accept the death of our constitution.

Posted by: unum - Feb. 10, 2012 5:22 PM ET USA

The Catholic institutions will still have to pay for the cost of "women's health care" provided by the insurance pool they are in. The insurance companies will just recover their cost in overhead and premiums will still increase. Notice Obama did not discuss the proposal with representatives of the churches. He only wanted approval of his leftist "women's health" supporters that this scam would provide political cover for his campaign.

Posted by: filioque - Feb. 10, 2012 5:01 PM ET USA

Ambassador Glendon and Prof. George et al. have it exactly right. God give our bishops the wisdom and courage to start talking like courageous apostles instead of accommodating -- I almost said politicians, but they are being out-politicked. They better start preaching the Faith and no holding back. They have every right to be angry and indignant at the President's transparent ruse and should say so.

Posted by: John3822 - Feb. 10, 2012 5:01 PM ET USA

Although a step in the right direction,the fundamental principle has not been addressed. Namely can the government dictate that faith-based organizations violate their conscience. This latest rule says that insurers must violate their conscience. So the dilemma was just moved from most faith-based organizations to insurers... somehow they don't count.? If the principle is to be adhered to, this compromise cannot stand.

Posted by: davidSanDiego - Feb. 10, 2012 4:56 PM ET USA

At the times of the Roman persecutions you could avoid being martyred by throwing incense on the brazier before the altar of a roman god. This is the compromise proposed: hand the incense to your insurance company and they throw it on the altar for you.

Posted by: polish.pinecone4371 - Feb. 10, 2012 4:54 PM ET USA

My guess is that the reason Dolan's response was "muted" is because he's in Rome for the Consistory, and so are a whole bunch of other key players from the USCCB, and did not have a chance to look at the details. I expect we should hear more sometime mid-week.

Posted by: AgnesDay - Feb. 10, 2012 4:01 PM ET USA

We are very fortunate that our corporate structure hires only 7 employees, and the rest are independent contractors. We have no freedom of religion whatever, and if we had enough employees, we would be coerced into this shameful thing.

Posted by: rpp - Feb. 10, 2012 4:00 PM ET USA

This is still an attack on religious freedom. The feds in *requiring* all health insurance companies to provide coverage for contraception and abortifacients have establish a religious test for those who want to engage in that commerce; no Christian or Muslim can sell or provide health insurance. What about the freedoms of secular (non-religious) employers, just regular people with religious convictions who want to do right for their employees? Sebelius should be excommunicated NOW!

Posted by: John Holecek - Feb. 10, 2012 3:58 PM ET USA

Obama's rolled the bishops before. Hopefully they are wiser now.