Catholic World News
Los Angeles: archdiocese's gay, lesbian ministry celebrates 25 years
October 24, 2011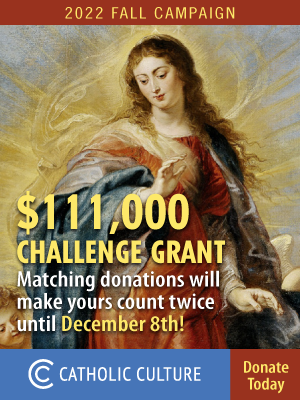 The Archdiocese of Los Angeles' Ministry with Gay & Lesbian Catholics commemorated its 25th anniversary with a special Mass on October 22.
"I feel that the Church might actually be going through a process of coming out," preached Father Brian Doran, a retired priest who describes himself as gay. Born and educated in Ireland and ordained for the Archdiocese of Los Angeles in 1971, Father Doran is past director of the archdiocese's program for continuing education of clergy.
"And the acceptance part … it is coming," he preached. "And the joy part -- well, you know what? We may not live to see the joy part on the part of the Church."
Stating that hundreds of infants who are baptized every Sunday will become gay, he added, "Twenty-five years from now, they will be standing up here, those little gay Catholic people, they will be standing up here and they, God willing, will be talking about the joy that they are experiencing and that we have worked and brought their way."
---
For all current news, visit our News home page.
---
Further information:
Sound Off!
CatholicCulture.org supporters weigh in.
All comments are moderated. To lighten our editing burden, only current donors are allowed to Sound Off. If you are a current donor, log in to see the comment form; otherwise please support our work, and Sound Off!
Posted by: FredC - Oct. 25, 2011 10:36 AM ET USA

Instead of condemning Archbishop Gomez, write to him, objecting politely, calling him to task. A (large) group of priests might also approach him; an individual priest would probably have little effect.

Posted by: unum - Oct. 25, 2011 7:44 AM ET USA

Let's hope that Abp. Gomez is not another "Roger the Dodger", but the early signs are not good.

Posted by: - Oct. 24, 2011 10:08 PM ET USA

Gomez disappoints again.

Posted by: annemarie - Oct. 24, 2011 10:02 PM ET USA

What's truly revolting is that Archbishop Gomez, apparently, allowed this travesty to proceed as scheduled. Father Brian Doran and the church's pastor should have been called on the carpet and the Mass canceled. Another weak-kneed, politically correct bishop – how appalling and disheartening!

Posted by: mrschips19308196 - Oct. 24, 2011 9:01 PM ET USA

If the bishops don't put a stop to it, maybe it is time for Divine Intervention.........."Come Lord Jesus!"

Posted by: Don Vicente - Oct. 24, 2011 3:37 PM ET USA

In the L.A. Times article, we are told that: "Talk at the Mass wasn't so much of living up to church doctrine as changing it." Gee, isn't that special?!

Posted by: williiam ronner - Oct. 24, 2011 2:14 PM ET USA

Another homosexual priest attempts to change the Church. What else is new!

Posted by: Defender - Oct. 24, 2011 12:50 PM ET USA

As you read the article it becomes clear that there are many who don't embrace the two thousand years of Church teaching - the use of "they" in referring to the Church tends to give the first clue.

Posted by: timothy.op - Oct. 24, 2011 12:10 PM ET USA

Lord, have mercy on your Church!!! If anyone involved in this ministry is leading people into sin, it is people such as these whose fate Christ promised would be worse than a millstone around the neck.