Catholic World News
Jewish groups concerned about Vatican outreach to SSPX
September 19, 2011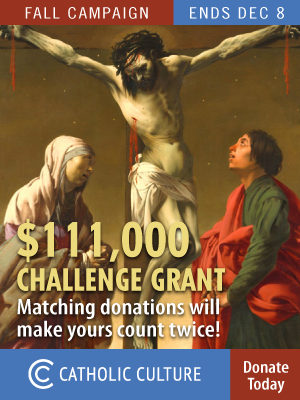 Some Jewish organizations are expressing concern that the "Doctrinal Preamble" presented to the Society of St. Pius X by Vatican officials at a September 14 meeting would not require the society to accept Notre Aetate, the Second Vatican Council document that taught that Christ's Passion "cannot be charged against all the Jews, without distinction, then alive, nor against the Jews of today."
On September 12, the French superior of the Society of St. Pius X said, "How can anyone entertain the thought that God will be pleased with the Jews, who are faithful to their fathers who crucified the Son of God?"
"It would be unthinkable to allow a Catholic breakaway sect that includes a Holocaust-denying bishop, Richard Williamson, to be reintegrated into the church while still being allowed to promote anti-Semitism and anti-Judaism -- which they have been doing for years in their teachings and on their web site," said Abraham Foxman, Anti-Defamation League national director.
Nonetheless, Foxman added that "we are confident that Pope Benedict XVI will continue to require the Society of St. Pius X, which espouses anti-Semitic and anti-Jewish beliefs, to publicly accept the Church's positive teachings about Jews and Judaism since the 1965 Second Vatican Council, before fully accepting them back into the Roman Catholic Church."
---
For all current news, visit our News home page.
---
Further information:
Sound Off!
CatholicCulture.org supporters weigh in.
All comments are moderated. To lighten our editing burden, only current donors are allowed to Sound Off. If you are a current donor, log in to see the comment form; otherwise please support our work, and Sound Off!
Posted by: samuel.doucette1787 - Sep. 20, 2011 8:47 AM ET USA

Oh yes, the voice of the anti-Magisterium speaks. I hope the Pope simply ignores the clowns at the ADL.

Posted by: Erik George - Sep. 19, 2011 7:46 PM ET USA

Nostra Aetate is a red herring. It changes nothing about Church teaching regardless of what the ADL or SSPX might opine. N.A. affirms that the Church succeeds the Jews as the "new people of God" and emphasizes the duty of the Church to "proclaim the cross of Christ" to all, Jews included. This political stunt by the ADL is merely an attempt to influence internal Church affairs and, as such, should be duly ignored.

Posted by: rpp - Sep. 19, 2011 3:32 PM ET USA

Steve, Williamson said that there were no gas chambers. A German court found him guilty of denying the Holocaust. So to answer your question, I guess one could say that the German courts did it. I know many involved in the Latin Mass movement, many with canonically approved societies like the FSSP. I am always shocked by the number of lay people in these movements who express anti-Semitic feelings and believe the Church teaching supports their bigotry.

Posted by: - Sep. 19, 2011 1:47 PM ET USA

How did Williamson's comments--stupid though they were--get translated into "holocaust denial"? So, if somebody disagrees as to the methods and extent, that translates into "denial"? (SSPX was completely correct to stomp on him: such foolish speculation does NOTHING to advance the faith.)