Catholic Recipe: Twelfth Night Cake II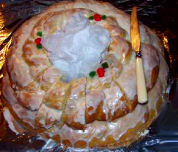 This traditional Epiphany dessert can be decorated with a festive crown of gum drops. Three beans are hidden inside the cake, and the child who receives a piece of cake with a bean becomes one of the kings for the rest of the Epiphany party.
DIRECTIONS
Cream shortening and sugar. Add milk alternately with sifted dry ingredients. Fold in beaten egg whites. Add vanilla. Bake in three 9-inch greased layer tins in a moderate oven (375°) for about 30 minutes or until brown. The cake should spring back when touched lightly with a fingertip. Cool for 10 minutes before removing the layers out of the pans. Cool completely before frosting.
Recipe Source:
Cooking for Christ by Florence Berger, National Catholic Rural Life Conference, 4625 Beaver Avenue, Des Moines, IA 50310, 1949, 1999