Catholic Recipe: Mushroom Stroganoff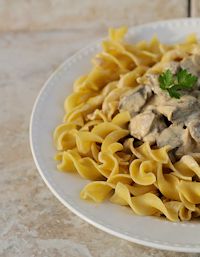 This recipes was taken from My Catholic Kitchen where you can find many other good recipes for feast days.
DIRECTIONS
Heat the oil in a skillet over medium heat. Add the onions. Cook until the onions are translucent, about 10 minutes. Add the garlic and cook another minute longer. Add the thyme Worcestershire sauce and mushrooms cook for 10 minutes. Add salt and pepper. Stir the bouillon, water and wine in the skillet. Heat to boil. Reduce the heat to medium. Allow to reduce for about 30 minutes. It should be reduced to about half. Add the sour cream. Cook and stir until the mixture is incorporated.
Serve over hot noodles.
Recipe Source:
My Catholic Kitchen by Veronica Gantley