Catholic Recipe: Baked Potato Soup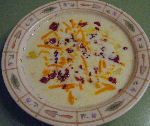 Comforting yet easy to make.
DIRECTIONS
To bake potatoes in the microwave, prick each several times with a fork. Microwave 1 inch apart on paper towels at HIGH 14 minutes or until done, turning and rearranging after 5 minutes. Let cool. Peel potatoes, and coarsely mash with a fork.
Melt butter in a Dutch oven over medium heat; add onion, and saute until tender. Add flour, stirring until smooth. Stir in potatoes, half-and-half, and next 3 ingredients; cook over low heat until thoroughly heated. Top each serving with cheese and bacon.
Recipe Source:
Southern Living , Oxmoor House, 2002