Catholic Recipe: Garlic Mashed Potatoes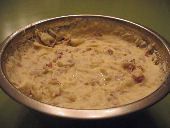 This recipe goes well with Spinach Stuffed Chicken.
DIRECTIONS
Preheat oven to 350 degrees.
Peel papery skin from garlic, leaving whole head intact. Wrap in foil and bake at 350 degrees for 1 hour. Cool and separate cloves to extract garlic pulp. Discard skin and squeeze garlic pulp into small bowl; set aside.
Meanwhile, place potatoes and onion in large pot with water to cover. Bring to a boil, cover and reduce heat; simmer 15-20 minutes or until potatoes are fork tender. Drain in colander.
In large bowl, combine potatoes, onion, garlic pulp, milk, yogurt, rosemary, salt, pepper and onion powder. Mash with potato masher until all blended but still chunky. Serve immediately.
Recipe Source:
Information from Various Websites