» Enjoy our Liturgical Seasons series of e-books!
But the woman came and did him homage, saying, "Lord, help me." He said in reply, "It is not right to take the food of the children and throw it to the dogs." She said, "Please, Lord, for even the dogs eat the scraps that fall from the table of their masters." Then Jesus said to her in reply, "O woman, great is your faith! Let it be done for you as you wish." And her daughter was healed from that hour (Matt 15:25-28).
The feast of St. Stephen of Hungary, which is ordinarily celebrated today, is superseded by the Sunday liturgy.
Click here for commentary on the readings in the Extraordinary Form of the Roman Rite.
---
Sunday Readings
The first reading is taken from the Book of the Prophet Isaiah 56:1, 6-7. The theme of the prophet here is the call of the Gentiles to the service of the true God on the great day which is to come. The temple of that future messianic age will be a "house of prayer" for all peoples.
The second reading is from the Letter of St. Paul to the Romans 11:13-15, 29-32. In this reading Paul admits clearly that in the Christian Church is the fulfillment of all the hopes and promises made to Israel, yet this fulfillment of Judaism is composed of Gentiles as well as Israelites. Paul here calls himself the apostle to the Gentiles but still prays that the Israelite rejection of Jesus may one day be reversed. (Excerpted from A Celebrants Guide to the New Sacramentary - A Cycle by Kevin W. Irwin)
The Gospel is from St. Matthew 15:21-28. There is a lesson, a very necessary one, for all of us in this episode of Christ's public life. It is the necessity of perseverance in our prayers of petition. Prayer is an essential part of our Christian life, and the essential part of prayer is that of adoration and thanksgiving, but prayer of petition has a big part in our daily prayers. We have so many spiritual and temporal needs, needs which we cannot provide by ourselves. Christ himself has told us to ask Him for these needs: "ask and you shall receive."
Do we ask with the fervor and perseverance which prove that we have "great faith"? That faith is the proof which Christ needs before He grants our requests. The Canaanite woman of whom we have just heard is for us an example of that deep-seated faith and trust in Christ's power and Christ's goodness. Even though He ignored her she continued to beseech Him, and when He answered with what seemed a direct refusal, her faith and trust did not waver. She answered His reason for refusal with another statement which showed that the granting of her petition would not in any way interfere with or impede His primary task, His mission to His father's chosen people. This was the proof of great faith which He required. He granted her request.
We must imitate and learn from this pagan mother. Her love for her child made her ready to undergo every hardship or suffering for the restoration to health of her loved one. When we turn to Christ in our needs is our faith in Him as sincere and unwavering as was this woman's? No doubt it often is, and yet we do not get the desired answer. As Christians we know that our particular request may not always be for our good, or for the final good of the person for whom we are praying. In that case, the good God will not grant what would be to our eternal disadvantage. But if our prayer is sincere and persevering, we shall always get an answer, and one which is better than what we asked for.
How often do we wonder at or perhaps doubt God's mercy when we see, for example, the young father of a family being taken from his loved and helpless ones, notwithstanding the prayers and tears of his wife and children. Where is God's mercy here? Where is His answer to these sincere prayers? But who are we to question God's mercy? The answer is there and often clear enough: that death brings out in his relatives and neighbors virtues which they would otherwise never have had occasion to practice - virtues that will earn for them eternal life.
It is only when we get to heaven - and getting to heaven is our purpose in life - that we shall see how our prayers, sincere and persevering, were answered by God.
Excerpted from The Sunday Readings by Fr. Kevin O'Sullivan, O.F.M.

---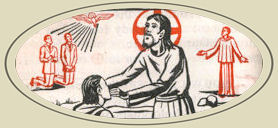 Commentary on the Readings for the Eleventh Sunday after Pentecost
"They brought to Him one deaf and dumb. . .And his ears were at once opened, and. . .his tongue was loosed, and he began to speak correctly" (Gospel).
May your ears tune in on God (symbolized by kneeling figures at left). May your tongue broadcast His Gospel (indicated by figure of "speaker" to the right), in the "holy place" of your parish activities, in the "house" of your family, among the "people" of your acquaintance (Introit).
If we are "to hear" His Voice, we must go "aside from the crowd" at our Sunday Mass, for at least one uninterrupted hour. Only then, like the cured deaf-mute, shall we return and gladly "publish" the truth (Gospel).
St. Paul relates how he received "the gospel"; how he then passed it on to others. "Hold it fast as I preached it to you" (Epistle).
Excerpted from My Sunday Missal, Confraternity of the Precious Blood