Move to:
Previous Day
|
Next Day
Ordinary Time: October 25th
Friday of the Twenty-Ninth Week of Ordinary Time; Forty Martyrs of England & Wales (Eng & Wal)
» Enjoy our Liturgical Seasons series of e-books!
Old Calendar: Sts. Chrysanthus and Daria, martyrs; Sts. Crispin and Crispinian (Hist)
Today in England is the feast of the Forty Holy Martyrs of England and Wales (in Wales this is a memorial), a group of forty men, women, religious, priests, and lay people who were canonized by Pope Paul VI on October 25, 1970. These people were executed for their Faith during a period of anti-Catholicism from 1535 to 1679. The Martyrs who were canonized were among more than two hundred martyrs who had been beatified by various earlier popes.
Some of the common "crimes" of these people were being priests, harboring priests, or refusing to take the Oath of Supremacy. This group of saints includes some well-known saints, such as St. Alban Roe, and St. Edmund Campion. Many of these saints are recognized on the days of their martyrdom, but as a group, they are recognized on the day they were canonized. — Al BushraAccording to the 1962 Missal of St. John XXIII the Extraordinary Form of the Roman Rite, today is the feast of Sts. Chrysanthus and Daria, a husband and wife who carried on an active apostolate among the noble families of Rome during the third century. When they were denounced as Christians, they underwent various tortures with great constancy, and they were buried alive in a sandpit in the year 283.Today the Roman Martyrology remembers the martyrs Crispin and Crispinian, who died in the persecution of Diocletian by the sword. They were brothers, possibly twins, and cobblers. St. Crispin's day has been immortalized by Shakespeare's Henry V speech before the Battle of Agincourt in 1415.
---
Beatified Martyrs of England and Wales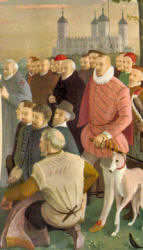 These forty were canonised by Pope Paul VI on October 25th, 1970. They are representative of the English and Welsh martyrs of the Reformation who died at various dates between 1535 and 1679. Some 200 of these martyrs had already been declared 'Blessed' (i.e. 'beatified') by previous Popes. They include:
SS. John Houghton, Robert Lawrence and Augustine Webster, the first martyrs (1535), all priors of different Charterhouses (houses of the Carthusian Order, including the one in London) who, by virtue of the Carthusian vow of silence, refused to speak in their own defense;
St. Cuthbert Mayne, a Devonian, who was the first martyr not to be a member of a religious order. He was ordained priest at the then newly established English College at Douai in Northern France and was put to death at Launceston in 1577;
St. Edmund Campion, the famous Jesuit missionary and theologian who published secretly from Stonor Park, the ancient Catholic country house near Henley-on-Thames, who died in 1581 on the same day as St. Ralph Sherwin, the first martyr to have been trained at the English College in Rome;
St. Richard Gwyn, the first of the Welsh martyrs, a schoolteacher from Llanidloes in Mid-Wales who died at Wrexham in 1584;
St. Margaret Clitherow, the wife of a butcher with a shop in the famous Shambles in York, who allowed her house to be used as a Mass centre, who was sentenced to be crushed to death under a large stone at the Ouse Bridge Tollbooth in the city;
St. Swithun Wells, a teacher from Brambridge in the county of Hampshire who owned a London house at Grays Inn Fields which was also a secret Mass centre (1591);
St. Philip Howard, eldest son of the fourth Duke of Norfolk (himself executed for treason in 1572) who led a dissolute existence and left behind an unhappy wife in Arundel Castle until he was converted by the preaching of St. Edmund Campion, and died in the Tower in 1595;
St. Nicholas Owen, Jesuit lay brother and master carpenter, who constructed many priests' hiding-holes in houses throughout the country, some of them so cunningly concealed they were not discovered until centuries later (1606).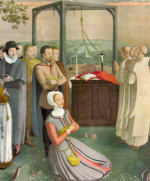 Under James I and Charles I the purge died down, but did not entirely cease. St. John Southworth, missionary in London, was put to death under Cromwell and is venerated in Westminster Cathedral, and the final martyrs died in the aftermath of the Titus Oates plot in 1679. [SS. John Fisher & Thomas More are not included in this list for they had been canonized in 1935].
Taken from Sacred Heart Parish, Waterloo
Things to Do:
If you would like to learn more about the Forty Martyrs you can purchase a pamphlet published by the Catholic Truth Society from St. Bernard Books.
For a list of the forty martyrs and a little more information about some of them, you can visit this site.
---
Sts. Chrysanthus and Daria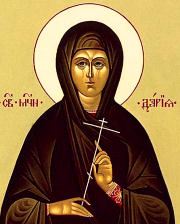 According to legend these two saints belonged to the nobility. Daria received baptism through the efforts of her husband Chrysanthus. In Rome they were instrumental in bringing many to the faith, for which cause they were cruelly martyred. Chrysanthus was sewn inside an ox's hide and placed where the sun shone hottest. Taken to a house of ill-fame, Daria was protected by a lion while she passed the time in prayer. Finally both were buried alive in a sand-pit and thereby together gained the crown of martyrdom (283). They were buried in the Jordan cemetery on the Via Saleria, Rome; at the same site were buried sixty-two soldiers who died as martyrs and also a group of faithful who had gathered together for the holy Sacrifice on the anniversary of saints' deaths but were cut down by the enemies of Christ.
Excerpted from
The Church's Year of Grace
, Pius Parsch
Patron:
Eissel, Germany; Salzburg, Austria.
Symbols:
Ox skin; sandpit.
---
Sts. Crispin and Crispinian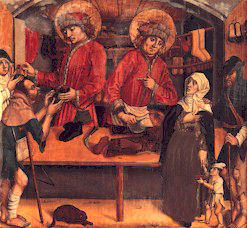 The Roman Martyrology includes these twin brother martyrs for this day. St. Crispin was a Roman noble and brother of Saint Crispinian with whom he evangelized Gaul in the middle 3rd century. They worked from Soissons, preached in the streets by day and made shoes by night. The group's charity, piety and contempt of material things impressed the locals, and many converted in the years of their ministry. They were martyred in Rome in 286 by torture and beheading, under emperor Maximian Herculeus, being tried by Rictus Varus, governor of Belgic Gaul and an enemy of Christianity. A great church was built at Soissons in the 6th century in their honor; Saint Eligius ornamented their shrine.
This feast was immortalized by Shakespeare in his play
Henry V
, (Act 4, Scene 3). The king gave a rousing speech (called "Saint Crispin's Day) on the eve of the Battle of Agincourt, fought on this day in 1415. (Read a
synopsis
of the battle.) The English, although outnumbered, soundly defeated the French. In England this was a religious holiday on which commoners and serfs got a day of rest.
Patron:
Cobblers; glove makers; lace makers; lace workers; leather workers; saddle makers; tanners; weavers.
Symbols:
Cobbler's last; shoe; shoemaker's tools; awl and knife saltire; millstones; flaying knives; rack.