Move to:
Previous Day
|
Next Day
Ordinary Time: October 19th
Memorial of Sts. Isaac Jogues and John de Brebeuf, priests and martyrs and companions, martyrs
» Enjoy our Liturgical Seasons series of e-books!
Other Commemorations: St. Peter of Alcantara
Today in the dioceses of the United States the Church celebrates the optional memorial of Sts. Issac Jogues and John de Brébeuf (priests and martyrs) and their companions (martyrs). They were Jesuit missionaries who died martyrs in North America, where they preached the Gospel.
According to the 1962 Missal of Bl. John XXIII the Extraordinary Form of the Roman Rite, today is the feast of St. Peter of Alcantara, priest. He was one of St. Teresa's spiritual directors and encouraged her in her reformation of the Carmelite Order.
---
St. Isaac Jogues, St. John de Brebeuf and Companions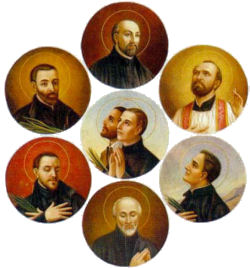 French Jesuits were the first missionaries to go to Canada and North America after J. Cartier discovered Canada in 1534. Their mission region extended from Nova Scotia to Maryland. Isaac Jogues, John de Brebeuf, Gabriel Lalemant, Noel Chabanel, Charles Garnier, Anthony Daniel, Rene Goupil and John de Lalande (the first six Jesuits, the last two laymen) preached the gospel to the Iroquois and Huron Indians, and after being tortured, they were martyred in the area of what is now Auriesville, New York. The martyrdoms took place between 1642 and 1649. Ten years after the martyrdom of St. Isaac Jogues, Kateri Tekakwitha was born in the same village in which he died. These martyrs are co-patrons of Canada.
The missionaries arrived in Canada less than a century after its discovery by Cartier in 1534, in the hope of converting the Indians and setting up "New France." Their opponents were often the English and Dutch colonists. When Isaac Jogues returned to Paris after his first capture and torture, he said to his superior: "Yes, Father, I want whatever our Lord wants, even if it costs a thousand lives." He had written in his mission report: "These tortures are very great, but God is still greater, and immense."In the Office of Readings we have an excerpt from the mission journal of St. John de Brebeuf, who had been a student of the great Jesuit spiritual writer, Louis Lallemant. He wrote:
For two days now I have experienced a great desire to be a martyr and to endure all the torments the martyrs suffered.... I vow to you, Jesus my Savior, that as far as I have the strength I will never fail to accept the grace of martyrdom, if some day you in your infinite mercy should offer it to me, your most unworthy servant.... On receiving the blow of death, I shall accept it from your hands with the fullest delight and joy of spirit.... My God, it grieves me greatly that you are not known, that in this savage wilderness all have not been converted to you, that sin has not been driven from it.
--Excerpted from Saints of the Roman Calendar by Enzo Lodi
Patron:
Americas; Canada.
Symbols:
men dressed in Jesuit black robes with crucifix in hands; IHS is the symbol for the Society of Jesus; red (color for martyrdom); red roses (symbol of martyrdom);
Things to Do:
Pray to the Holy Spirit to renew the evangelization of distant countries as well as the re-evangelization of our own nation.
More Christians have been martyred in the 20th century than in the previous nineteen centuries combined. For example, pastors are being arrested and sometimes shot in China and Cuba. Believers are forbidden to buy goods or own property in Somalia. Christians who testify to their faith in Iran or Saudi Arabia may be put to death for blasphemy. Mobs have wiped out whole villages of Christians in Pakistan. Pray for courageous and zealous missionaries in these countries where the Church is persecuted.
Support the Indian Missions in the USA.
Visit the National Shrine of the North American Martyrs in Auriesville, New York. This site offers a wonderful gallery of pictures of the shrine.
Learn more about each of the martyrs. You might also like to read this definitive scholarly biography, Saint Among Savages: The Life of St. Isaac Jogues, by Francis Talbot, S.J.
Learn for Christmas the Indian Christmas Carol, the first American Christmas carol John de Brebeuf wrote to teach the Christmas story to the Huron Indians.
---
St. Peter of Alcantara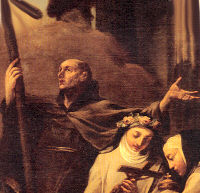 Peter, surnamed Alcantara after the town of his birth, was eminent among the saints of the sixteenth century for an extraordinary spirit of penance and for attaining the heights of contemplation. He was a great mystic. Born in 1499, at the age of sixteen he entered the Order of Friars Minor. He was an apostle of spiritual reform in his own community and aided St. Teresa in her reform of the Carmelites. God revealed to her that no one would remain unheard who begged in the name of Peter; thereafter she was most eager to have his prayers and honored him as a saint while he was still alive. With great humility Peter shunned all favors from eminent personages, even though they esteemed him as the mouthpiece of God or asked his counsel; for instance, he declined the request to act as confessor to Charles V. Although she was at quite a distance at the time of his death, St. Teresa saw his soul entering heaven. Later he appeared to her and said: "O happy penances which won for me such blessedness!"
--Excerpted from
The Church's Year of Grace
, Pius Parsch
Patron:
Brazil (named by Pope Blessed Pius IX in 1862); Estremadura, Spain (named in 1962); watchmen.
Symbols:
Cross of twigs or boughs; ladder and star; dove; star.
Things to Do:
Born of wealthy parents, highly educated, and eminently successful, Peter of Alcantara left all things so that he might find in the poverty of Christ the inestimable riches of God. Meditate on how to be poor in spirit (Fr. Thomas Dubay's book, Happy Are You Poor: The Simple Life and Spiritual Freedom, is a good place to start).
Read more about St. Peter here.
Pray for all those with power, authority, status, privilege and assets, that they will come to Jesus in humility and poverty of spirit and that as a result of this on-going conversion, they will change their ways and manners of living.
Imitate St. Peter's self-denial by fasting and sacrificing a little sleep by getting up early enough to go to Mass.
---
Bl. Jerzy Popieluszko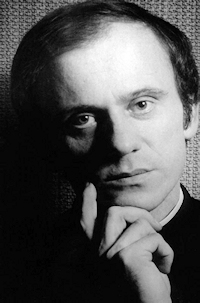 Blessed Jerzy Popieluszko was born September 14, 1947, on a farm in the small village of Okopy located in North Eastern Poland. His parents Wladyslaw and Mariana were devout Catholics and he was baptized Alphons Popieluszko two days after his birth. Blessed Jerzy was a fragile child but as his parents stated he made up for any physical infirmities in strength of character.The country into which Blessed Jerzy was born was one suffering from the aftermath of the reign of terror by the Nazi's and the ongoing persecution of the Church by the Communists since the country's occupation by the Russians in the Second World War. Okopy, the geographical center or "heart" of Poland was a rural village and thus its school system was not as deeply infiltrated with the sociology of the communist regime, but nevertheless Bl Jerzy suffered for his Faith while yet in school. Each morning before classes began Bl Jerzy would walk three miles to serve Mass, and then after classes were over in the evening, would return to the Church to pray the Rosary. His spirituality was ridiculed and he was accused by his teacher of praying too much.As a precaution due to the harassment he received Bl Jerzy kept secret his intention to join the seminary for fear that if it were known the results of his exams would be altered. After graduating high school in 1965 while his friends were at the school ball, Blessed Jerzy Popieluszko was on a train headed for the seminary in Warsaw. He had chosen Warsaw due to its closeness to the monastery of St Maximilian Kolbe, a favorite saint of Bl Jerzy. Although against the agreement of 1950 between the Church and State, after one year of seminary training Bl Jerzy was drafted into the military for a two year tour in a special unit for clerics in Bartoszyce.The plan for drafting clerics into the service was to indoctrinate them with the communistic ideal and cause them to lose their vocation. In spite of bitter persecution ensuing from the practice of his Faith, Blessed Jerzy Popieluszko firmly defied the authority's attempt to marginalize Catholicism. On one occasion, when Bl Jerzy refused to crush his rosary beneath his heel he was cruelly beaten and placed in solitary confinement for a month. Also on account of his refusal to remove a medal from about his neck he was forced to stand for hours in the freezing rain. He was also made to crawl around the camp on his hands and knees as a punishment for saying the rosary. The results of this barbarity were that on the completion of his two year tour, Bl Jerzy had to undergo a life threatening surgery to undo the damage done to his heart and kidneys from his beatings. The recovery caused his ordination to be delayed, but on May 28, 1972, he was ordained with his name changed from Alphons to Jerzy by Cardinal Wyszynski.Blessed Jerzy Popieluszko was first stationed taking care of several small parishes where his work was greatly appreciated. In January of 1979 he collapsed while saying Mass, and was sent to stay in a hospital to recover. Afterwards, he was given the duty as chaplain for the medical niversity of St Ann in Warsaw. A year later he was transferred to his last parish, St Stanislaus Kostka in Warsaw.When Solidarity met in the Lenin shipyard in the summer of 1980, Bl Jerzy was the chaplain sent to the striking workers. The success of Solidarity helped to inspire Bl Jerzy, and every month afterwards he would offer a Mass for the Homeland and give a sermon to inspire people to follow the maxims of the Gospel, primarily by abandoning violence. Bl Jersey also organized a relief effort to help the families suffering from the loss of their jobs and livelihood as a result of defending the Faith, or the government having declared martial law. The government grew more and more frustrated with Bl Jerzy as more and more people flocked to him, and at the monthly Mass for the homeland had guards stationed at every block corner to watch him. Bl Jerzy went out of his way to be kind to these guards, calling them his "Guardian Angels" and even bringing them coffee in the cold Polish winter.Excerpted from
Roman Catholic Saints
Things to Do: