Move to:
Previous Day
|
Next Day
Ordinary Time: January 14th
Wednesday of the First Week of Ordinary Time
» Enjoy our Liturgical Seasons series of e-books!
Old Calendar: St. Hilary, bishop and doctor; St. Felix of Nola, priest and martyr
According to the 1962 Missal of Bl. John XXIII the Extraordinary Form of the Roman Rite, today is the feast of St. Felix who lived in the third century. He was a priest and suffered greatly in the Decian persecution. The tomb of St. Felix at Nola, a small town in the south of Italy, was a much frequented place of pilgrimage in Christian antiquity, and in the Middle Ages veneration of him spread throughout the west. Along with St. Hilary his feast is celebrated today on the Tridentine Calendar. According to the Ordinary Rite St. Hilary's feast is now celebrated on January 13.
Indulgence for Sixth World Encounter of Families in Mexico January 14-18
---
St. Felix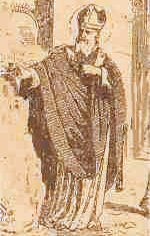 In one of the early persecutions the priest Felix was first tortured on the rack, then thrown into a dungeon. While lying chained on broken glass, an angel appeared, loosed his bonds, and led him out to freedom. Later, when the persecution had subsided, he converted many to the Christian faith by his preaching and holy example. However, when he resumed his denunciation of pagan gods and false worship, he was again singled out for arrest and torture; this time he escaped by hiding in a secret recess between two adjacent walls. No sooner had he disappeared into the nook than a thick veil of cobwebs formed over the entrance so that no one suspected he was there. Three months later he died in peace (260), and is therefore a martyr only in the wider sense of the word.
St. Paulinus of Nola (see June 22), who cherished a special devotion toward St. Felix, composed fourteen hymns (
carmina natalicia
) in his honor. In his day (fifth century) the saint's tomb was visited by pilgrims from far and wide and was noted for its miraculous cures. —
The Church's Year of Grace
, Pius Parsch
Patron:
Against eye disease; against eye trouble; against false witness; against lies; against perjury; domestic animals; eyes.
Symbols:
Cobweb; deacon in prison; spiderweb; young priest carrying an old man (Maximus) on his shoulders; young priest chained in prison with a pitcher and potsherds near him; young priest with a bunch of grapes (symbolizes his care of the aged Maximus); young priest with a spider; young priest with an angel removing his chains.
Things to Do:
Let us be convinced that if we strive and struggle in God's behalf, we may also rely on His special protection. God shields you from your enemies, even, if need be, by a spider's web. Spend some time recalling occasions when you were protected in an unusual way from harm.