» Enjoy our Liturgical Seasons series of e-books!
Old Calendar: St. Mary of Cleophas (Hist); St. Gaucherius (Hist)
And when evening was come, his disciples went down to the sea. And when they had gone up into a ship, they went over the sea to Capharnaum; and it was now dark, and Jesus was not come unto them. And the sea arose, by reason of a great wind that blew. When they had rowed therefore about five and twenty or thirty furlongs, they see Jesus walking upon the sea, and drawing nigh to the ship, and they were afraid. But he saith to them: It is I; be not afraid. They were willing therefore to take him into the ship; and presently the ship was at the land to which they were going. — Douay Rheims
Spirit of love and truth, have mercy on us.
Litany of the Holy Spirit
for the election of a holy pope.
---
Reflection: "Nothing to Fear But Fear Itself"
Jesus' greeting to his disciples in today's gospel is clear, direct and obviously much needed-"It is I; do not be afraid." The message was dearly reassuring for the terrified disciples, especially because after the greeting Jesus brought them safe to shore.Even we who hear this text in our day and age continue to be afraid of a host of things in life such as unemployment, serious illness, an unprovided death, violence in our streets, or broken hearts because of infidelity in our relationships. Yes, despite the encouraging words of Jesus in the gospel we still have our moments of fear and of doubting God.It is usually precisely when we admit our doubts and fears that we are open to signs of God's presence with us, just as the disciples are grateful for Jesus' saving presence in the gospel. The kind word of a friend, the affirmation of an employer, the endearing gesture of a loved one, the encouragement from a doctor to persevere in good health habits-all of these are signs of harmony and that we really ought not to fear because God is indeed with us through other people.The assembly of Christians gathered at the eucharist today was once far off from God. Through baptism we were brought near to God and to one another. Today we celebrate this reality in broken bread and shared cups of wine. The reality is that however difficult things get in life we ought never to be so afraid that we doubt or despair of God's abiding presence. In fact, sometimes it is because we have been so afraid that we can truly hear Jesus' words "do not be afraid" "it is I" and "I shall be with you all days." —
A Guide to the Eucharist and Hours - Easter
by Kevin W. Irwin
---
St. Mary of Clophas
"And there were standing by the cross of Jesus His mother and His mother's sister, Mary of Cleophas, and Mary Magdalen." How should we understand "His mother's sister," literally, as in having the same parents, or in the same sense that Jesus's "brothers" are to be understood as close relatives?
The short answer is that Mary of Cleophas is probably the Blessed Virgin's sister-in-law. Mary of Cleophas may have had a previous husband named Alpheus, or this Alpheus may have been Cleophas. The Blessed Virgin Mary, of course, only had one husband (Joseph) and remained a virgin. The long answer may be found
here
.
---
St. Gaucherius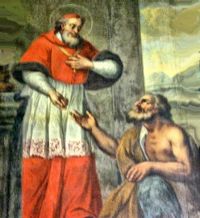 Born in Meulan-sur-Seine to the northwest of Paris, he received a classical education and became a priest. However he felt a deep longing for solitude and a life more radically centered on God. He thereupon devoted his life God as a hermit and began with his friend, Germond, to reside in the area of Limoges. Alone and forgotten by the world, Gaucherius and Germond grew in holiness. Their example attracted others who built hermitages near to theirs. Finally Gaucherius decided to build a monastery at Aureil and to establish two communities, one for men, the other for women, both under the rule of St. Augustine. The passage of an eremitical settlement into the canonical life was one of the principal ways through which the canons regular grew in the 11th and 12th Century. The community of Aureil is typical of these kinds of Ordo Novus canons regular. Thereafter he lived with his companions, being for all a model of sanctity. His companions and disciples include St. Lambert of Angouleme and St. Faucherus as well as the founder of Grandmont monastery, St. Stephen Muret. He died 80 years old in 1140 and was canonized in 1194.
Excerted from the
Canons Regular of St. Augustine
---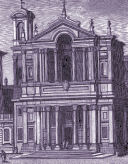 Tuesday of the 5th Week of Lent
Station at Our Lady at Via Lata (Santa Maria in via Lata al Corso)
The Station in Rome was formerly the church of the martyr St. Cyriacus, and as such it is still given in the Roman missal; but this holy sanctuary having been destroyed, and the relics of the holy deacon translated to the church of St. Mary in Via lata, it is here that the Station is now held.