Catholic Activity: Celebrating for the Solemnity of the Immaculate Conception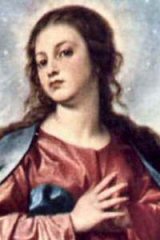 A short explanation of the doctrine of this feast, and ideas to bring the teaching home, such as a Mary Candle and baking Moravian Spice Cookies.
DIRECTIONS
The dogma of the Immaculate Conception that we celebrate lends to many areas that we can meditate on, or teach to children. The doctrine of original sin, the sin of Adam and its effects is a good area to study. For the best explanation of the teachings of the Church of this area, see The Catechism of the Catholic Church, numbers 386-412. This day would also be appropriate for parents to plan their approach on family sex education, as it is the privilege and duty of parents to teach their own children in this area.
For the feast of the Immaculate Conception create a Mary candle. Use a beautiful white candle and decorate it with symbols of Christ, such as a Chi Rho, or attach a picture or figure of the infant Jesus to the base of a large pillar candle. You could even carve a little niche to place a wax infant Jesus. Place the candle in a holder, and then cover with a mantle, made of beautiful white cloth or lace (symbolizing Mary's soul without stain), perhaps with a blue ribbon tie. This mantle symbolizes Our Lady, who carried the baby Jesus under her heart until He was born. The candle, which represents Christ, the Light of the world, remains covered all through Advent, until the veil is removed to reveal the newborn Child.
Baking for the Feast of the Immaculate Conception
The special treat for this feast is Moravian Spritz or gingerbread cookies, loaded with fine, aromatic spices. These are mixed on the vigil, December 7. They are baked on this day because they remind us of the passage in the Book of Sirach (formerly Ecclesiasticus), 24:20-21 that describes Mary smelling like spices:
I gave a sweet smell like cinnamon and aromatical balm; I yielded a sweet odor like the best myrrh; and I perfumed my dwelling as store, and galbanum, and onyx, and aloes, and as the frankincense not cut, and my odor is as the purest balm.
These cookies fill the air with spicy odors, like the quoted passage speaks of Mary.
Jennifer Gregory Miller Jennifer G. Miller
Activity Source: Original Text (JGM) by Jennifer Gregory Miller, © Copyright 2003-2022 by Jennifer Gregory Miller