Catholic Activity: A Jonas (Jonah) Project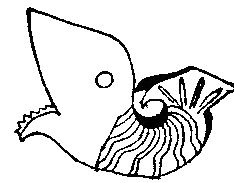 This is a good activity for Holy Week that sums up all that Jonas (Jonah) teaches. It is a fun way of conveying important doctrine to children.
DIRECTIONS
Now for something to do. This is an activity that sums up all that Jonas teaches. The children use it during Holy Week. You need 9" X 12" colored construction paper, scissors, paste, and your choice of crayons, paint, or inks, and glitter. If you get glitter, don't forget a tube of glitter-glue to use with it. All these things can be found in the Five-and-Ten.
The fish, measuring 8" X 5-1/2", is cut from a folded piece of paper with the top of the head and tail on the fold. Paste the tails together and spread apart the base so that it will stand.
The ship is 6" high and 6-1/2" long, with the top of the sail on the fold. This is cut from one piece of folded paper. Cut another sail from another color and paste over the first; spread apart to stand.
Jonas is 3" high with his hands on the fold. Paste his heads together and spread his legs apart.
Use different colors for each piece and decorate them to suit your fancy. On the sail of the ship we painted a single eye, a symbol of the watchfulness of God the Father, who saw Jonas run away and sent the storm at sea.
This is how they are used. Pour yellow corn meal on a tray (if sand is not available), and the figures will stand up in it. At the beginning of Holy Week, Jonas is in the ship. Standing in the prow with his arms flung up like that, he looks as though he is about to be tossed overboard Good Friday he goes into the fish. On Easter Sunday, the first child awake runs downstairs to take him out of the fish and put him on the shore, where he stands with his arms upflung in a great and joyful Alleluia! On the mast of the ship he tapes a cross, because the ship is a symbol of Christ's Church, born out of the graces of the Redemption, and the fish is an ancient symbol of Christ. Icthus is the Greek word meaning fish, and each letter is the initial Greek letter of each word in the Greek phrase Jesus Christ, Son of God, Saviour.
There is a lot of doctrine here, and it is fun to learn it this way. It works out nicely as a classroom project also.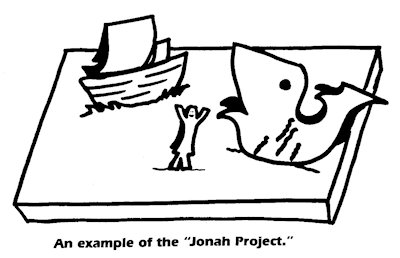 Activity Source: Year and Our Children, The by Mary Reed Newland, P.J. Kenedy & Sons, New York, 1956