Catholic Activity: Jesse Tree, Day 17 - The Annunciation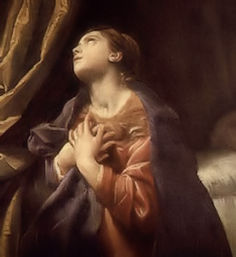 Symbols: Lily
Of Jesse's lineage was the Virgin Mary. Into her chamber came the Spirit of the Most High.
That he might make known unto us the mystery of his will, according to his good pleasure, which he hath purposed in him, in the dispensation of the fullness of times, to re-establish all things in Christ, that are in heaven and on earth, in him. —Eph. 1:9-10
V. The angel of the Lord brought the message to Mary.
R. And she conceived by the Holy Spirit.
The lily is a symbol of Our Lady's purity, though becoming a mother she remained a virgin.
DIRECTIONS
Recommended Readings: Luke 1:26-38