Catholic Activity: Grapevine Crown of Thorns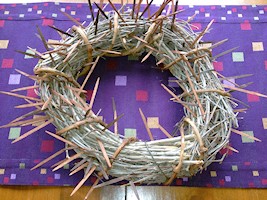 Similar to the Advent activity of Straws in the Manger a crown of thorns made from salt dough or a grapevine wreath can inspire children to penance and self-denial through Lent.
DIRECTIONS
For this crown flat craft picks.
Before inserting the picks into the crown, I used acrylic wood paints and colored the sticks. Place all the sticks in a large bowl for crafting, and then poured the paint over and coated it with my hands. Gloves can make the process less messy. Then these are put into newspaper to dry. They do stick to the paper, so it's helpful to keep moving them to avoid sticking.
Insert the picks all around to look like Jesus' crown of thorns. Prepare as a centerpiece display. Place a small container to hold the removed "thorns".
On Holy Saturday evening, this crown of thorns can be decorated as an Easter wreath.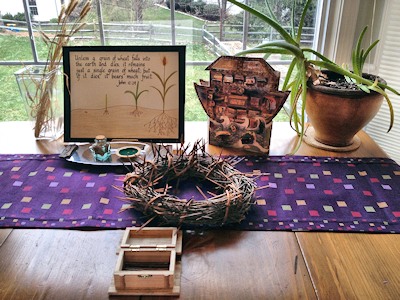 Activity Source: Original Text (JGM) by Jennifer Gregory Miller, © Copyright 2003-2022 by Jennifer Gregory Miller