Catholic Activity: Day Twelve—Activities for the Twelfth Day of Christmas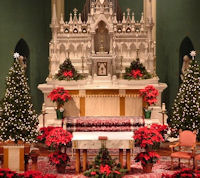 Counting the exact days from Christmas to January 5, the 5th of January is the Memorial of St. John Neumann (1811-60), the fourth bishop of Philadelphia, Pennsylvania, USA. At the time of St. John Neumann's episcopate there was a strong anti-Catholic sentiment in Philadelphia and having had two churches burned and another barely saved, priests were advising the Bishop, not to proceed with introducing the 40 Hours of continual adoration of Jesus in the Blessed Sacrament, believing it would somehow increase the hostility already directed against the Church.
The Bishop had a decision to make and then something happened to make up his mind to proceed with the devotion of the 40 Hours of Adoration:
DIRECTIONS
One night, he was working very late at his desk and fell asleep in his chair. The candle on the desk burnt down and charred some of the papers, but they were still readable. He awoke, surprised and thankful that a fire had not ignited. He fell on his knees to give thanks to God for protection, and heard His voice saying, "As the flames are burning here without consuming or injuring the writing, so shall I pour out my grace in the Blessed Sacrament without prejudice to My honor. Fear no profanation, therefore; hesitate no longer to carry out your design for my glory."
He introduced the practice of 40 Hours Devotion at the first diocesan synod in April, 1853, and the first devotions began at St. Philip Neri Parish, an appropriate place since that St. Philip had begun that very devotion in the city of Rome. The holy bishop then introduced the program for the whole diocese, so that each parish would have Forty Hours Devotion during the course of the year. He wrote a booklet for the devotions and obtained special indulgences for the faithful attending them. The Forty Hours Devotion was so successful it spread to other dioceses. At the Plenary Council of Baltimore in 1866, the Forty Hours Devotion was approved for all Dioceses of the United States. Excerpted from St. John Neumann and the 40 Hours Devotion by JosephMary
| | |
| --- | --- |
| | |
We suggest that today would be an excellent time to make a family holy hour (or holy half hour) at an adoration chapel or in your parish church. If you can't make a visit to the Blessed Sacrament your family can pray this litany at home. The activity can by brought to conclusion by singing Christmas carols and enjoying Christmas cookies and the Bohemian Christmas bread, Vanocka, to honor St. John Neumann's own Bohemian roots.