Catholic Activity: Decorating Easter Eggs
Here are some ideas for putting Christ back into the Easter egg decorations.
DIRECTIONS
Very few people have not decorated eggs at one time or other in their life. Eggs are a symbol of new life, reminding us of Christ's resurrection from the dead. Just as the little chick breaks through the shell of the egg, Jesus came forth from the tomb.
Today many eggs are decorated with symbols like Easter bunnies that have very little reminders of the resurrection, what Easter is all about. To bring back the eggs to the original symbolism decorate the eggs with liturgical symbols or spiritual themes. This can used as an artistic challenge for all those budding artists in the family. There are numerous ways to decorate eggs, but one easy way is to take Crayola Crayons® (this brand works best) on a plain boiled egg. Color the egg with different designs and symbols, and then the eggs are dyed in food coloring, available at any food store. Using Crayon colors like white, yellow and other light colors to create designs on the eggs result in an interesting contrast against the darker colors of the dyes.
Some suggested symbols:
Symbols of the Resurrection: Easter lily, butterfly, peacock, bursting pomegranate, the phoenix, the sparrow, the bee, the egg, Jonah and the fish;

Easter scenes: an empty tomb, an empty cross with a white cloth hanging, lamb with banner, Christ in white garments, angels at the tomb;

Other religious symbols: crosses, doves, lambs, triangle (for the Trinity), grapes, chalice, fish, Chi-Rho, Alpha and Omega;

Joyful phrases: "Alleluia, He is Risen!" "Christ is Risen, Alleluia!", "Christus Resurrexit Alleluia!" "The Lord is Risen!", "This is the day the Lord has made, alleluia!"; "Christ has become our paschal sacrifice."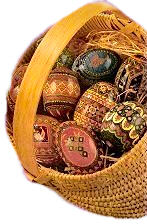 Special eggs from the Slovakian, particularly Ukrainian tradition, called
pysanky
(singular:
pysanka,
, pronounced pis'-ahn-ka, also called in other languages:
kraslice, kraseny jajcja, pysane jajce, and farbanka ,
) are created through a process of dyes and wax. These are beautiful works of art, and not edible, but many decorative ideas can be used for the hard-boiled eggs until one can create true pysanky. Every mark and color on the egg has some symbolism. Some examples: ribbons, lines or repeated geometric patterns which encircle the egg with no beginning or end symbolize eternity or eternal life, animals symbolizing wishes of fertility, wheat means good health, wishes for a bountiful harvest and reminder of the Eucharist, flowers meaning love, good will and charity. Dots or circles symbolize the tears of Mary.
From Ukrainian Easter by Mary Ann Woloch Vaughn we find that colors on pysanky also hold special significance which can be incorporated on regular Easter eggs:
White: purity and innocence

Yellow: wisdom, recognition, harvest and reward

Orange: strength, endurance and ambition

Red: happiness, hope or passion

Green: sign of spring, hope and innocence

Blue: good health

Purple: royal color, faith and trust

Brown: earth and mountain color, harvest color, positive symbolizing happiness

Grey: not a positive color

Black: strong color, meaning of remembrance

(©1983, Ukrainian Heritage Company, Munster, IN)
Each family member can also decorate a personalized egg for a family members, with the person's name in part of the design. Each member should have an egg with their name that can be used as "placecards" for the Easter breakfast (especially nice in eggcups).
One specially decorated egg can be designed as the "Alleluia Egg," or "Golden Egg" which is usually golden or yellow, with Alleluia incorporated in the decoration. If the family has an Easter egg hunt on Easter Sunday, this egg can be the egg to win the special prize.
Supply Sources: For Ukrainian, Polish or other Slavic egg designs, you can find supplies at these shops, and others: Ukrainian Gift Shop;
Slovak Shop; and
Jennifer Gregory Miller Jennifer G. Miller
Activity Source: Original Text (JGM) by Jennifer Gregory Miller, © Copyright 2003-2022 by Jennifer Gregory Miller