Woman and Man, the Fullness of What is Human
By Dr. Jeff Mirus ( bio - articles - email ) | Sep 25, 2007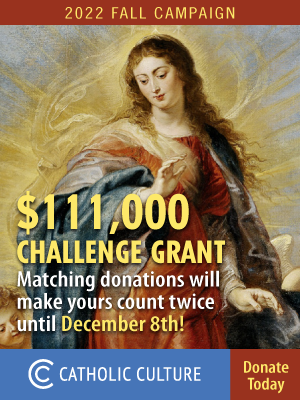 In early February 2008 the Pontifical Council on the Laity will host a conference based on John Paul II's Mulieris Dignitatem (On the Dignity and Vocation of Women). This conference offers genuine hope for a true renewal of the Christian understanding of women.
Drawing from all five continents, the invitation-only gathering will include 250 participants, among them representatives from each episcopal conference, from various Catholic associations, movements and new communities, and from academic life. Together they will reflect on John Paul II's apostolic letter, which was issued roughly twenty years ago on the Feast of the Assumption in 1988.
The conference theme, "Woman and Man, the Fullness of What is Human", will be addressed particularly from the point of view of the distortions of modern culture in the various regions of the world. For example, the dignity of women will be explored with respect to both highly traditional Asian cultures and technological consumerist cultures such as that of America. In the former context, women are generally considered inferior and in the latter they are too often objectified and commoditized. The role of women in faith education in Africa will also be considered, as will integral formation of women in Latin America.
The goal of the conference is to shape new paradigms not only for a cultural view of women and but for their own self-understanding. Prevailing paradigms are clearly flawed and even harmful, such as the reduction of women to objects of consumption, gender ideology, the rejection of motherhood, or the idea of the super-woman who attempts to maintain both a nurturing role in the home and a competitive role in the workplace.
In the past, conferences sponsored by pontifical councils have produced rich results, because so many well-formed and intelligent participants are selected for invitation. This one should be no exception. Watch for it.
Sound Off!
CatholicCulture.org supporters weigh in.
All comments are moderated. To lighten our editing burden, only current donors are allowed to Sound Off. If you are a current donor, log in to see the comment form; otherwise please support our work, and Sound Off!