Understanding the Universal
By Dr. Jeff Mirus ( bio - articles - email ) | Jun 28, 2004
I enjoy books about man's struggle against overwhelming odds. There is a celebration of the human spirit in the effort to conquer the Pole, or to rescue survivors of a shipwreck, or to sail around the world, or to survive without water in the Sahara. Part of my lazy armchair enjoyment comes, certainly, from the vicarious adventure. But there is also a transcendence of ideology which points to a deeper truth. Rescuers don't ascertain a man's political beliefs before risking everything to save him. Nor do we care less about a lost child because his parents don't share our Faith.
The Little Prince
In this frame of mind, I recently browsed the "travel adventure" section of our local public library. Among many larger works, I came across Wind, Sand and Stars by Antoine de Saint-Exupéry. This book was a revelation to one who knew Saint-Exupéry only as the author of The Little Prince, a children's story about a child who travels among the stars seeking to overcome his loneliness only to discover that if he is not to be forever isolated, he must learn to see with his heart.
The Little Prince was Saint-Exupéry himself. He was constantly sketching pictures of children, even on napkins in restaurants. On one occasion the American publisher Curtice Hitchcock asked him what he was drawing: "Nothing much: it is the child in my heart." Hitchcock recommended he write the story of that child. The book was published in April 1943, about 15 months before Saint-Exupéry disappeared while flying a reconnaissance mission for the Americans over his native France, occupied by the Germans during World War II.
Aviator, Survivor, Hero
It turns out that Saint-Exupéry was an early aviator, a veteran of the mail service which flew from France across the Mediterranean to North Africa in the late 1920's and early 1930's. He did similar work in South America. Among his many adventures, he crashed in the Egyptian desert, where he and his navigator had to survive without water for five days. Always a reflective and poetic writer, in 1936 he served as a correspondent in the Spanish Civil War for a French newspaper, the Intransigent.
Saint-Exupéry did well enough to purchase his own plane, the "Simoun", in which he hoped to set speed records. A crash during a race between New York and Tierra del Fuego resulted in a long convalescence and permanent disability in one shoulder. Happily, during this period of convalescence, he wrote the book I discovered, Wind, Sand and Stars, which was awarded the Grand Prize by the French Academy in May of 1939 under its French title (Terres des Hommes).
Then World War II broke out, and Saint-Exupéry worked and lobbied and argued to be permitted to fly missions against the Nazis despite being over the age limit for war pilots, and despite his partially-paralyzed shoulder—until he disappeared on that reconnaissance flight on July 31, 1944 at the age of 44.
Universally Human
In all his experiences, Saint-Exupéry strove to understand the essential spirit that "makes a man", the spirit which actuates the nobility and dignity of the human person. Because he encountered that nobility and dignity in North African tribesmen and Republican soldiers in the Spanish Civil War as well as in English scientists, French poets and Catholic monks, he did not phrase his questions in terms of catechism or dogma. Saint-Exupéry accepted beauty and nobility where he found them; he reflected constantly on the human need to escape from that wretched preoccupation with the measurable which so often deadens our perceptions; he wondered at the spark which drives us to see life with an interior eye and to forge the ties that bind.
One example comes from his ordeal somewhere across the Nile River in the unknown sands of Egypt. Saint-Exupéry and his navigator, Prevot, are already beginning to die of thirst. They build a fire from parts of their ruined plane to serve as a signal beacon. While it burns, Saint-Exupéry reflects: "I was haunted by a vision of my wife's eyes under the halo of her hat. Of her face I could see only the eyes, questioning me, looking at me yearningly. I am answering, answering with all my strength! What flame could leap higher than this that darts up into the night from my heart?"
And a little later, exhausted and hopeless:
I was perfectly ready to fall asleep, whether for a night or for eternity. If I did fall asleep, I could not even know whether it was for the one or for the other. And the peace of sleep! But that cry that would be sent up at home, that great wail of desolation—that was what I could not bear. I could not stand idly by and look on at that disaster. Each second of silence drove the knife deeper into someone I loved. At the thought, a blind rage surged up in me. Why do these chains bind me and prevent me from rescuing those who are drowning? Why does our conflagration not carry our cry to the ends of the world? Hear me, you out there! Patience. We are coming to save you.
A Break for the Dogmatist
In general, I am a dogmatist. I like my truth straight up. More often than not I'm fighting somebody about truth, and my personality does not lend itself well to ambiguities. What I found by chance in Saint-Exupéry was both a respite from the hard edges of controversy and a deeper immersion into what it means to be a child of God. I confess willingly that I do not believe it is possible to transcend Catholicism, nor do I think it possible to read Saint-Exupéry as an exercise in relativism, but it is both possible and necessary for us combative Catholics to remind ourselves that we share deep aspirations and strong bonds with all our brothers and sisters across the face of the earth—our enemies not least of all.
Wind, Stand and Stars is a beautiful and, yes, adventurous reflection on man and nature, life and death, love, community and the human soul. In the air, in France, in Africa, in South America, in Spain, among his comrades and among Islamic warriors and fanatical Communists who may in the next moment take his life—even alone and cut off in the desert—Saint-Exupéry uncovers the nobility in himself, his companions and his enemies with a sure touch that is almost a caress, reminding us whom it is we are called to love.
The work of Antoine de Saint-Exupéry, including Wind, Sand and Stars, is still in print and available on Amazon.com.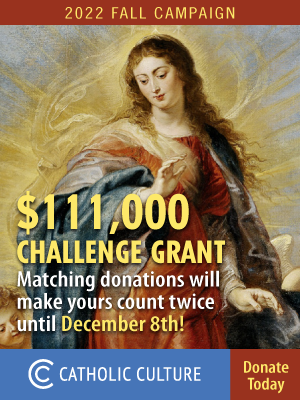 Sound Off!
CatholicCulture.org supporters weigh in.
All comments are moderated. To lighten our editing burden, only current donors are allowed to Sound Off. If you are a current donor, log in to see the comment form; otherwise please support our work, and Sound Off!