The secular mandatum
By Phil Lawler ( bio - articles - email ) | Jun 29, 2004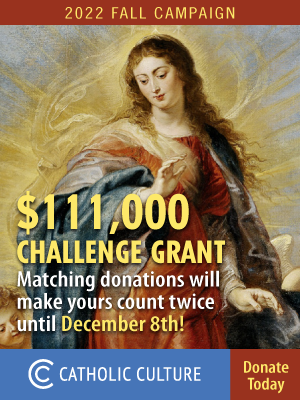 Garry Will is very unhappy with the US bishops, because they presume to speak from authority on the issue of abortion.
Wills doesn't think that bishops should speak from authority. Only he should do that.
Thus, Wills quickly dismisses a Scriptural argument by Pope Pius XII, saying: "Yet no scholar of Scripture accepts that reading of Genesis 38:9 anymore..."
No scholar of Scripture accepts that reading? None at all?
Then suddenly you realize how this game is played. If someone does accept that argument, by definition he doesn't qualify as a scholar. Leave it to Wills to decide who is a qualified scholar, and you'll find that-- surprise!-- all the scholars agree with him.
Now if a Catholic bishop tried that route-- announcing that university professors aren't Catholic scholars if they disagree with the magisterium-- just imagine the outrage from Wills!
Sound Off!
CatholicCulture.org supporters weigh in.
All comments are moderated. To lighten our editing burden, only current donors are allowed to Sound Off. If you are a current donor, log in to see the comment form; otherwise please support our work, and Sound Off!