Toward a Policy on Women
By Dr. Jeff Mirus ( bio - articles - email ) | Jul 25, 2008
A recent column by Anna Quindlen in Newsweek was essentially an open letter to Barack Obama urging him to pay close attention to the needs of women. Quindlen urged the putative Democratic nominee to speak on behalf of his grandmother, who had no opportunities, his mother, who had few, and his wife, "who because of the newest wave of feminism suddenly had many." Remarking that for many women, "Hillary was their surrogate," Quindlen believes that Obama has a chance to be "their champion."
According to Quindlen, many women feel deep frustration when they watch younger and less experienced men get promoted over them in the workplace, and many women apparently thought they were witnessing the same pattern in the battle between Obama and Hillary Clinton for the nomination. While the former is certainly true in many instances, I suspect there are also many situations now where women are routinely advanced over more experienced men (writing, editing and designing publications among them, pace Quindlen). In any case, it is difficult to see how, in a country in which the majority of voters are women, Senator Obama's eclipse of Senator Clinton can be ascribed to stereotypical prejudice.
Deeper Issues
People will always have reasons to prefer men or women in certain situations, and there will always be a battle of the sexes. While greater equality of opportunity for women is a theoretical good, the devil is in the details, and these details have raised more problems than they have solved in the modern West. We face grave questions concerning the meaning of femininity, the proper relationship between men and women in marriage, sexual license, the value of human life, the role of women in nurturing, and the importance of the family—to name just a few. Whatever the case for some individual women, it is not clear that our culture as a whole is healthier because of the inroads of feminism. Moreover, the atmosphere created both by feminism and greater employment opportunities for women has arguably been a contributing factor to the breakdown of both marriage and family life, which has left countless women in dire economic straits.
Arguments on both sides of these questions may swirl endlessly, but I found one paragraph in Quindlen's column more amusing than annoying:
Sometimes being an older woman at this moment in time can be a bit like one of those dreams in which you're running hard and yet not moving. On the one hand, we've come so far. On the other, there's always that fear of being dragged back to the bad old ways, in which the crust on our casseroles and the size of our breasts were how we were measured.
Taking casseroles and the female anatomy as symbols for two aspects of married life—homemaking and sex—it is, to put it mildly, unclear that the former concern was irrelevant or that the latter concern has abated. In an age in which women have little but their sexual allure to hold a man, there is a booming business in the artificial. If anything, I suspect feminism has made things very much worse in this regard, though it is hardly the only factor. Perhaps boys will be boys, but neither competition with women nor their absence as true homemakers can help boys to become better men.
Ultimately the most important single solution to the relations between men and women is exactly what St. Paul prescribed. Husbands must love their wives to the point of sacrificing themselves, as Christ loves the Church; and wives, when it comes right down to it, must be subject to their husbands (Eph 5:21-33). Not only is this what works, but it is transformative. Does anyone doubt that the anger, frustration and sexual isolation so often associated with feminism are rooted in the failure of men to love? Fathers who have betrayed their daughters, husbands who have betrayed their wives: Here are the origins of the peculiar rancor and imbalance of modern feminism. When a woman is loved sacrificially by a man, she blossoms in wonderful security with supreme consciousness of her worth. When she responds in kind, her man becomes a king. It is, after all, the Year of St. Paul. There are many issues to be sorted out, but the most important one is this.
Perennial Differences, a Source of Humor
Fortunately, unless we're very far gone, the differences and sometimes conflicts between men and women are an endless source of humor. Among stable, comfortable couples and their friends, at least, the jokes are frequent and predictable. A woman can no more go to the restroom alone than a man could ask his buddy to join him. Most women are incapable of shopping in a straight line; most men keep their face forward and eyes focused until they've reached what they want. And ladies, if you want to get on the good side of man when you are both driving around lost, don't suggest that he ask directions. We're simply not alike, and the differences are either annoying, or interesting, or fascinating or alluring, depending on the mood that we're in.
Psychologists tell us that women are far more sensitive to background (context) and men to foreground (the particular issue at hand). Nearly everyone's experience bears this out, and it is doubtless the source of what we call woman's intuition. "Honey, didn't Joe seem sad when you were talking with him?" "No, no, he said he was fine, didn't he? Don't imagine things!" Another humorous example of this is something as mundane as dirt. Dirt is clearly background stuff, very definitely contextual. A man never sees it, but most women are aware of it even when they're not looking directly at it. Men and women can easily argue over whether the house needs cleaning.
It is generally agreed that men are more pro-active and women more receptive, dispositions that are presumably strongly related to their sexual make-up. When a man has a problem, he is not content until he can do something about it, whether or not there is really anything he can do. A woman is far more likely to be at peace without taking any specific action. Consider how men and women handle the common cold. Men typically complain like babies, with a somewhat aggrieved sense that something "ought to be done", but women tend to deal with sickness far more calmly, getting on with their lives as if—Great heavens!—having a cold is no big deal. On a more important note, women are generally far more spiritually receptive than men—and so far more likely to be naturally pious. Men frequently need some specific spiritual role to play, some battle to engage them, in order to activate their love of God.
Of course individual differences color and sometimes override these more general traits, but by and large things run true to type. Such differences are vital to marriage and family life, and they are often extremely useful in the workplace as well. As our "stereotypes" unravel, we need to be careful not to deliberately close our eyes to the obvious. Besides, all this discarding of stereotypes can be pretty hard on us guys. It seems there is hardly anything left that women haven't been "proven" to do as well or better than men, despite the outworn notions of our benighted ancestors. Just the other day I heard a news story which destroyed yet another stereotype. It seems that standardized test scores over the past twenty years now show that there is no significant gender difference in mathematical ability, which was once thought to be the province of males. Sheesh. Is nothing sacred?
Learning to Love
Amid the contemporary competition, St. Paul is ultimately proven right. It all comes down to learning to love. It would seem that men and women have a natural propensity to love each other, but God knows there is a great deal that gets in the way of loving rightly, some of which is rooted in our fallen humanity, and much of which is exacerbated by our contemporary culture. As always, Christ is the solution. Men and women need to learn to love each other—whether as classes, acquaintances, coworkers, friends, or spouses—specifically in Christ, and as Christ loves. Respect for the dignity of the other, delight in the variety of creation, wonder at the mystery of our differences, sacrifice for each other's good, openness to the designs of the Creator, and a categorical refusal to use anyone—this is the formula for success.
In fact, this is the only foundation for good relationships, and the only foundation for whatever good policies Anna Quindlen may so inadequately desire of Barack Obama. Policies may be needed, and there are doubtless many consciousnesses still to be raised, but right now we don't even know what we need, or what is good for us. The French say Vive la différence! As for me, I agree with the French. Must we be equal but separate? Authentic love is the key. We are doomed to destroy every attempt at both equality and justice, if we abandon love.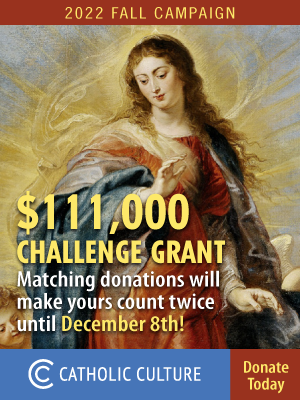 Sound Off!
CatholicCulture.org supporters weigh in.
All comments are moderated. To lighten our editing burden, only current donors are allowed to Sound Off. If you are a current donor, log in to see the comment form; otherwise please support our work, and Sound Off!