Ep. 13—Tertullian and the Theology of Sarcasm
By Mike Aquilina ( bio - articles - email ) | Apr 13, 2020 | In Way of the Fathers (Podcast)
Listen to this podcast on: Apple Podcasts | Google Podcasts | RSS feed
This is a listener-supported podcast! Thanks for your help!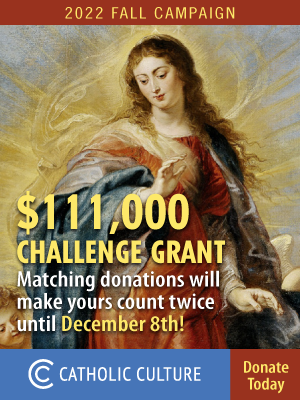 Sarcastic, bombastic, and brilliant, Tertullian of Carthage may be the most entertaining of the Church Fathers. He also did more than anyone else to launch theology in the Latin language. His life and his work were provocations to his opponents—who included many pagans and more than a few Christians. Learn about him (and the fascinating world of early North African Christianity) in this episode.
Links
Tertullian, Apology
https://www.catholicculture.org/culture/library/fathers/view.cfm?recnum=1662

More works by the Fathers https://www.catholicculture.org/culture/library/fathers/
Mike Aquilina's website https://fathersofthechurch.com
Theme music: Gaudeamus (Introit for the Feast of All Saints), sung by Jeff Ostrowski. Courtesy of http://www.ccwatershed.org.
Sound Off!
CatholicCulture.org supporters weigh in.
All comments are moderated. To lighten our editing burden, only current donors are allowed to Sound Off. If you are a current donor, log in to see the comment form; otherwise please support our work, and Sound Off!