The Shanley Monologues: Words Have Meaning
By Dr. Jeff Mirus ( bio - articles - email ) | Feb 18, 2006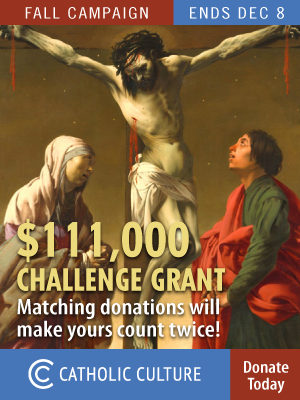 Student organizers at Providence College wanted to perform The Vagina Monologues as part of the V-Day effort to raise funds for organizations working to end violence against women. Providence College President Brian Shanley uttered something of a monologue in response, beginning with the word "No."
Before making his decision, Shanley read the play, met with student leaders of Women's Will (the main sponsoring group), looked into what other Catholic colleges have done in this regard, discussed the problem widely, and "prayed to God for guidance." The result was a statement in which he carefully explained his conclusion that "a V-Day presentation of The Vagina Monologues is not appropriate for a school with our mission."
Among many fine words in the statement were these: "Far from celebrating the complexity and mystery of female sexuality, The Vagina Monologues simplifies and demystifies it by reducing it to the vagina. In contrast, Roman Catholic teaching sees female sexuality as ordered toward a loving giving of self to another in a union of body, mind and soul that is ordered to the procreation of new life. The deeper complexity and mystery lies in the capacity of human sexuality, both male and female, to sacramentalize the love of God in marriage. Any depiction of female sexuality that neglects its unitive and procreative dimensions diminishes its complexity, its mystery and its dignity. Moreover, to explore fully the dignity of woman requires not only a consideration of female sexuality, but also of the capacity of women for intellectual, artistic, moral and spiritual activity; none of these dimensions are featured in The Vagina Monologues."
Noting that the play is billed as a "new bible" for a new generation of women, Shanley also pointed out that this is diametrically opposed to the traditional biblical view that inspires the teaching of the Roman Catholic Church. Unlike the play, for example, the Church does not regard the drunken seduction of a 16-year-old girl by a 24-year-old woman as resulting in "salvation" and "a kind of heaven."
Shanley went on to address both artistic and academic freedom, emphasizing that "any institution which sanctioned works of art that undermined its deepest values would be inauthentic, irresponsible and ultimately self-destructive." Further, "a Catholic college cannot sanction the performance of works of art that are inimical to the teaching of the church in an area as important as female sexuality and the dignity of women."
Finally, Shanley reiterated the commitment of the College to work closely with legitimate efforts to combat violence against women, especially Project SAVE (Sexual Assault and Violence Education). He expressed the hope and prayer that all members of the community might move beyond their disagreement over the play to unity in an important cause. But he has no illusions. He expects that the result of his statement will be "controversy."
The controversy will be made more heated because Shanley's words are rare enough to be considered "out of step". But perhaps Shanley's most important words are those he has chosen to describe himself. For Brian Shanley's self-description consists of three powerful nouns: Catholic, Dominican, Priest. Thanks to men like Brian Shanley, these nouns form a text worth repeating, a fresh expression of Christ's power: a monologue that saves.
Sound Off!
CatholicCulture.org supporters weigh in.
All comments are moderated. To lighten our editing burden, only current donors are allowed to Sound Off. If you are a current donor, log in to see the comment form; otherwise please support our work, and Sound Off!