conformity, and its rewards
By Diogenes ( articles ) | Feb 19, 2006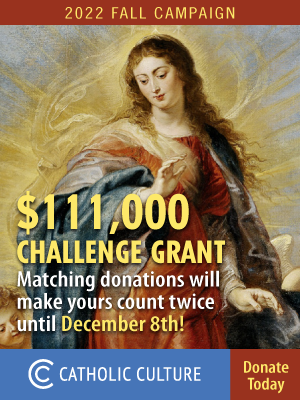 Notre Dame's new president John Jenkins recently strayed past the liberal toddler gate by suggesting an institutional reappraisal of the Vagina Monologues. I thought his remarks overly cautious, but judging from the reaction, you'd think he'd lynched Desmond Tutu or had been caught torturing puppies with a cigarette lighter. Loyally doing its bit for party discipline, the New York Times took its standard "faith versus freedom" story out of mothballs as a warning against future indiscretions. You all know the drill. First, we're reminded that Catholicism is not monolithic:
Catholic universities do not move in lockstep on controversial issues, and much depends on campus culture, said Michael J. James, executive vice president of the Association of Catholic Colleges and Universities. Of the 612 American colleges that are staging the play from Feb. 1 to March 8, 35 are Catholic universities, one more than last year, according to V-Day, an anti-violence organization affiliated with the play.
Next, we learn that Thinking Catholics side not with Rome but with Susan Sarandon and the New York Times, for which purpose a tame Jesuit is trotted out:
"There are people who say that the [Vagina Monologues] has no place on a Catholic campus," the Rev. Kevin Wildes, president of Loyola University New Orleans, wrote last year in a statement sanctioning the play. "To exclude the play from a Catholic campus is to say either that these women are wrong or that their experience has nothing important to say to us. I would argue that these are voices that a Catholic university must listen to if we are to understand human experience and if we are to be faithful to the one who welcomed all men and women."
Is there anyone, including Father Wildes, who believes that college girls' prating about their pudenda could result in fewer beatings dished out to the real women who actually receive them? Of course not. By repeating the party line, Wildes announces to the People Who Count that he's a non-combatant Catholic who can be invited to parties and museum benefits without spoiling the evening. Of itself, the Jesuit collegiate stance on the VM has as much to do with "the mission of a Catholic university" as waxing one's legs or one's limo.
The VM imposture would be amusing were it not attended by so much blatantly hypocritical self-congratulation. If a university community were concerned to diminish violence against women -- as opposed to luxuriating in the horror stories -- it would ask how best to increase stable marriages among working class households and how best to get the husband to church. But conventional marriage and conventional churchmanship are unfashionable among academics -- hideously so among Catholic academics with feelings of social inferiority -- and the best people would prefer to keep on pretending that the chic sexual anarchy championed by the Vagina Monologues will somehow empower the next generation of victims to say no to battering. Sure it's a fraud, but for an academy accustomed to disguise its prurience as openness it's a fraud too precious to part with.
Sound Off!
CatholicCulture.org supporters weigh in.
All comments are moderated. To lighten our editing burden, only current donors are allowed to Sound Off. If you are a current donor, log in to see the comment form; otherwise please support our work, and Sound Off!