Seven years ago, and today
By Phil Lawler ( bio - articles - email ) | Apr 19, 2012
Do you remember what you were doing on this date in 2005? I sure do.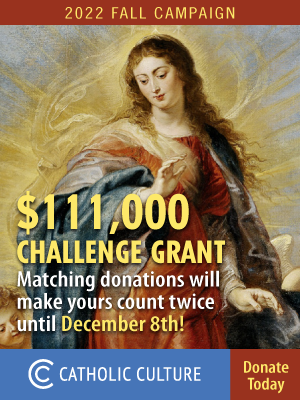 It was a quiet day here, but I was on edge, jumpy with anticipation, waiting for news from Rome. The papal conclave had just begun, and April 19 would be the first day of actual voting. It seemed unlikely that the cardinals would reach a decision on the first day; that would be unusually fast. But I wanted to be ready. I was at my desk very early in the morning, looking for any news from the Vatican.
The first two rounds of ballots, the morning votes, had already been taken in Rome before most Americans were awake. No surprise there. The next two ballots would be taken in the early evening, Rome time. We could expect to see more black smoke coming from the chimney of the Sistine Chapel sometime early in the evening there—early afternoon here. Then we could relax for a while; there would be no more votes until the next day.
But wait! The smoke began rising before 6 pm (before noon here): ahead of schedule. White smoke! A decision already!
It takes about a half-hour for the cardinals to emerge from a conclave, sort themselves out, and move over to the Vatican basilica to present the new Pontiff to the world. In the past that wasn't enough time to spread the word very far beyond the Vatican itself. Remember, the last papal election had been in 1978, long before cell phones and PDAs and computers had made it possible for all of us to be "wired in," ready to receive news instantaneously. From all over Rome, people began running toward the Vatican. The rest of us, in other countries, did the next-best thing: running to our TV sets.
If I was on edge in the morning—and I was—I was even more jumpy with anticipation by noon. Going into the conclave, there had been one cardinal who stood out clearly from the rest. All the other papabile, it seemed, could have been chosen only after a few days of thought, prayer, discussion, and inconclusive early ballots. But if the College of Cardinals swung toward Cardinal Ratzinger, that decision could be made quickly. And since the decision had indeed come quickly, it seemed logical to conclude…
But was I jumping to conclusions? I had written that "Cardinal Joseph Ratzinger will be the main focus of attention as the conclave begins." But in my attempt to assess the chances of the leading papabile I pointed out that he "may be perceived as too old for the rigors of the papacy." I added:
More important, Cardinal Ratzinger has been a lightning-rod for controversy both within the Church (because of his disciplinary action against wayward theologians) and outside (because of his insistence that Christ is the sole means to salvation). His public image as the authoritarian Panzerkardinal, although it is completely at odds with his mild personality, would make him the target of vitriolic attacks by secular liberals.
As a journalist I was trying to be reasonably objective. I suppose that alert readers could discern what my friends already knew: that I was hoping and praying that Cardinal Ratzinger would be chosen. But I was also trying to temper my hope with realism; it seemed too good to be true.
After a few minutes that seemed to take much longer, the curtains parted and Cardinal Medina Estevez stepped out at the loggia to deliver the announcement: Habemus Papam!. The crowd in St. Peter's Square applauded appreciatively, but everyone was still waiting for the name. Cardinal Medina Estevez seemed to take forever working his way through the traditional formula: Eminentissimum ac reverendissimum Dominum.
Then he paused, probably just to take a breath, but in my agitated state I felt sure he was deliberately slowing things down to frustrate me.
Dominum….
Yes, yes. Come on!
Iosephum
Here the cardinal paused again. But I didn't care. I knew the names of the leading papabile, and there was only one Joseph among them. I was already dancing around the room as Cardinal Medina Estevez finished:
Sanctæ Romanæ Ecclesiæ Cardinalem Ratzinger.
And now as the TV cameras panned around St. Peter's Square, it seemed that everyone else was jumping up and down too.
Today is a holiday at the Vatican. Our Church leaders are celebrating the anniversary of Pope Benedict's election, and we should be celebrating too. Do yourself a favor: watch a video of that historic announcement, and see whether you agree with me that Cardinal Medina Estevez was shamelessly toying with the anticipation of the crowd, milking the dramatic moment. Then think about what the Holy Father has accomplished in the past 7 years—just glance at yesterday's CWN news headlines if you need a quick reminder. Finally, take heed of the Pope's birthday wish "to support me always with your prayers so that, with the help of the Holy Spirit, I may continue my service to Christ and the Church."
Sound Off!
CatholicCulture.org supporters weigh in.
All comments are moderated. To lighten our editing burden, only current donors are allowed to Sound Off. If you are a current donor, log in to see the comment form; otherwise please support our work, and Sound Off!
Posted by: Defender - Apr. 20, 2012 7:11 PM ET USA

I was teaching 5th grade in a Catholic school and had talked with the older grades and my class about how a pope is elected (including giving them a quiz). Someone walked by and said a pope had been elected, so I turned on the TV and we watched one of the stations for a couple of hours.

Posted by: - Apr. 20, 2012 9:17 AM ET USA

I was on campus at Catholic U in DC, and the mood among the grad students was euphoric! The melancholy brought on by the passing of JP II was immediately overwhelmed by joy, optimism, confidence. We knew instinctively that the cardinals deferred to the Holy Spirit, and the Bride of Christ had been given a worthy steward. Viva il Papa! Thank the Lord for the Holy Father!

Posted by: AgnesDay - Apr. 19, 2012 2:19 PM ET USA

I sure do. We were holding kindergarten transition conferences in one school district I served, and we took a lunch break. That's when the radio was broadcasting the news of Cardinal Ratzinger's election. I was in my own car, nearly lost control, and forgot what restaurant where everyone said they would meet. What a day!