Restoring the Sacred
By Dr. Jeff Mirus ( bio - articles - email ) | Mar 16, 2007
If Italy has become a vast museum, it is a museum with artifacts that many still care about. A case in point is the St. Nicolo Cathedral in Noto, Sicily, which collapsed in 1996 after an earthquake had weakened the structure six months earlier.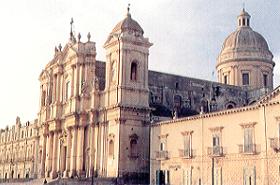 Noto is a lovely town on the southern slopes of the beautiful Hyblaei Hills, southwest of Syracuse. It was founded in 1703 about four miles southeast of the Roman city of Netum (now Noto Antiqua), which had been destroyed by an even more violent earthquake in 1693. The construction of the new town proceeded according to Baroque architectural design under some of the greatest architects of the period. Their work culminated in the Palazzo Ducazio and the Cathedral, which is the focal point of the town. As one of the finest representations of the eighteenth century baroque style, Noto has been designated as a UNESCO World Heritage site, and has been nicknamed the Stone Garden.
After the Cathedral collapsed, efforts were immediately undertaken to restore it just as it was—or as close as possible without reproducing past structural flaws. The project was a large one, because four pieces of the right part of the nave, one of the four bridgepiers supporting the dome, the entire roof and vault of the nave, three quarters of the drum and the dome with the lantern, and many smaller domes were lost.
It took four years to clear away the rubble from the collapse, and after that an extensive study was conducted to determine the structural defects. Only after this study was completed could the restoration begin. Fifty skilled artisans have now worked on the project for six years. Their task is almost done.
The Saint Nicolo Cathedral of Noto will reopen on May 26, 2007.
Sound Off!
CatholicCulture.org supporters weigh in.
All comments are moderated. To lighten our editing burden, only current donors are allowed to Sound Off. If you are a current donor, log in to see the comment form; otherwise please support our work, and Sound Off!