Quick Hits: Gender ideology destroys freedom, Catholic apologetics needed, a liberal writer fears conspiracy
By Phil Lawler ( bio - articles - email ) | May 31, 2016
Catching up on some important essays from last week: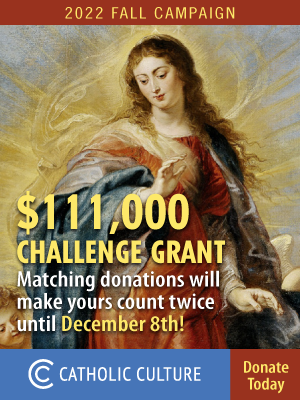 Stella Morabito has set herself the important but unhappy task of warning us about the dangerous consequences of gender ideology and especially "transgender" ideology. Her latest offering, A De-Sexed Society is a De-Humanized Society, is unusually powerful and persuasive. "In a society de-sexed by law," she asks, "would the state recognize your relationship as a husband or a wife? Mother or father? Daughter or son?"…. "In such a scenario, the state controls all personal relationships right at their source: the biological family." This trend toward state control over our lives is not accidental, she writes; it's the culmination of a sophisticated project of subversion—"the long march through the institutions"—now gaining in power and speed:

First, virtually all outlets of communication had to be on board—Hollywood, academia, the media. Check. All medical personnel, particularly mental health personnel, had to be "educated" to comply with the transgender program or risk losing their licenses. Check. The educational establishment had to imbue schoolchildren with the ideology. Check. Large corporations had to get on board as stakeholders and enforcers. Check. And, of course, the push to legally de-sex society had to be embedded—Trojan Horse style—within a slightly less alien idea, with the slick slogan "marriage equality." Check. Churches had to be brought on board so that even religion became a conduit for anti-truth. Check. Social, emotional, and economic pressures had to be established to censure anyone who dared to question the wisdom of it all. Check. Any such person had to be labeled a bigot, a hater, and a non-person. Checkmate.



Francis Beckwith cites St. Thomas Aquinas in making the oft-neglected point that it's vital to defend Catholic teachings in public debates. If the arguments of Church critics go unchallenged, he says, some Catholics who are not properly educated in the faith (and that, unfortunately, is a large cohort) might be tempted to think that they are no convincing answers to the critics. Beckwith writes: "Today, for some reason, certain segments of the Church, especially in the United States, seem to have forgotten the importance of defending the reasonableness of the Church's teachings when they conflict with views and beliefs that are dominant in the general culture." If only one side shows up for the debate, it's easy to predict the outcome.


Finally, on a semi-comic note, Michael Sean Winters of the National Catholic Reporter seems finally to have reached the level of self-parody, with a breathless column that argues, if I understand him aright, that the American bishops must denounce the late Mother Angelica and her EWTN network if they don't want to be considered—by Winters, anyway—as conspirators seeking to dethrone Pope Francis.
Sound Off!
CatholicCulture.org supporters weigh in.
All comments are moderated. To lighten our editing burden, only current donors are allowed to Sound Off. If you are a current donor, log in to see the comment form; otherwise please support our work, and Sound Off!