Political propaganda on same-sex marriage
By Phil Lawler ( bio - articles - email ) | Nov 20, 2003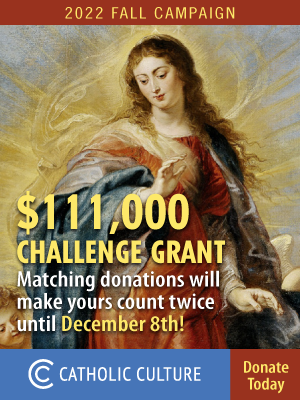 Standing the facts on their heads, a Boston Globe columnist warns Republicans that they will lose votes if they fight against same-sex marriage.
That's arrant nonsense. The public-- even in Massachusetts!-- is overwhelmingly opposed to same-sex unions. If Republicans find a way to rally that sentiment, they can cruise to electoral victories.
BTW, columnist Joan Vennochi is engaged in some revisionist history about the 1992 GOP convention. The truth is that Republican poll numbers soared after the Houston convention; the elder Bush lost the election for very different reasons.
Still, let's be mindful of the fact that when propaganda is repeated often enough, it gains public acceptance. In 1973 the American public was overwhelmingly opposed to legal abortion. But over the years many GOP candidates have become convinced that taking a clear pro-life stance is political suicide. Why? Because they've heard that message so often-- from op-ed columnists in the Globe, for instance. On abortion, the propaganda campaign has worked; now it's beginning on same-sex marriage.
Sound Off!
CatholicCulture.org supporters weigh in.
All comments are moderated. To lighten our editing burden, only current donors are allowed to Sound Off. If you are a current donor, log in to see the comment form; otherwise please support our work, and Sound Off!