papal grand strategy: an insight
By Phil Lawler ( bio - articles - email ) | Aug 14, 2006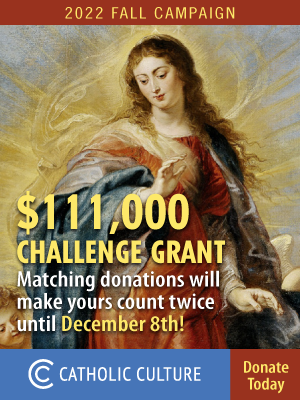 Veteran Vaticanologist Vittorio Messori, who collaborated with the future Benedict XVI to produce The Ratzinger Report, now sees an important hint about papal strategy encoded in a seemingly bland statement by the incoming Secretary of State, Cardinal Tarcisio Bertone.
If Messori is right-- and he makes a solid argument-- the Pope's goal is to enhance the authority of diocesan bishops by decreasing the power of national episcopal conferences.
As Messori observes, Vatican moves to put the bishops' conferences in their place might look like efforts to centralize power in Rome. Actually they would be exactly the opposite.
(Tip to Amy Welborn for the lead.)
Sound Off!
CatholicCulture.org supporters weigh in.
All comments are moderated. To lighten our editing burden, only current donors are allowed to Sound Off. If you are a current donor, log in to see the comment form; otherwise please support our work, and Sound Off!