only half empty
By Diogenes ( articles ) | Jul 11, 2008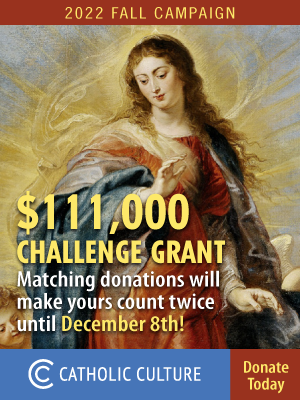 The annual budget showed a $2 million deficit and the pension fund is short by $110 million. Yet the Boston Globe headline story on the Boston archdiocese carries the odd title: "Diocese's financial picture brightens."
If a $2 million deficit offers a "bright" prospect, what would be dark? Well, there's last year's $9 million deficit to consider. And the 9-figure payouts to sex-abuse victims. Fair enough.
Still, there are clouds on the horizon. Such as that pesky $110 million shortfall in the clergy pension fund. Coincidentally, that gap could be filled by a sum slightly less than what the archdiocese has paid out to atone for the indiscretions of some clerics.
Then there's the $2 million that the archdiocese paid in legal fees last year. Hmm: $2 million. Where have we heard that figure before?
Oh, and the expenses include "$266,415 to its public relations consultants, Rasky Baerlein Strategic Communications." Money well spent, I'm sure. Gotta have a positive public image.
Sound Off!
CatholicCulture.org supporters weigh in.
All comments are moderated. To lighten our editing burden, only current donors are allowed to Sound Off. If you are a current donor, log in to see the comment form; otherwise please support our work, and Sound Off!