On Power and Authority
By Dr. Jeff Mirus ( bio - articles - email ) | Feb 01, 2008
Almost everything these days is seen in terms of power, and almost nothing in terms of authority. To put this another way, our first question is too often about what we can do, and too seldom about what we are. This attitude both animates and confuses many complex issues. From politics to theology, empowerment appears to be the name of the game.
What's in a Name?
Authority differs from power in that the term "authority" suggests a right to or fittingness for the power that goes with it. True authority is justified by what a person is, by what he has received from a higher authority, or by his relationship to other persons. Through any or all of these means he is connected to the "authorship" or origination of the power he will exercise. It is this connection that constitutes authority. When things are well-ordered, power derives neither from the will to exercise it nor from the strength to enforce that will. Power derives from authority, which is rooted in the nature or office of persons in their relationships with one another.
A few common examples may help. A parent has not only power but authority over his children in the order of nature precisely because he is the parent. His relationship to the child, which is rooted in their respective natures, engenders a web of responsibilities, rights and powers. Businessmen exercise power in the workplace by virtue of an authority which derives ultimately from ownership, which likewise involves certain relationships and all that goes with them. The power of public officials derives from political and social conventions which have evolved to secure the common good. If an official takes office according to these conventions, he enters a political relationship with other citizens which permits him to act with authority within the accepted scope of his office. Finally, a priest exercises sacramental power by a gift from God Himself which actually changes his very being, placing him in a new relationship with others in the order of grace.
This may appear obvious, but in a world which reduces everything to material gratification, we often tend to think in terms of what we possess and what we can do rather than who we are, or what relationships we have. A citizen insists that government has no right to curtail his power for the common good. Advocacy groups work to "empower" children against their parents. We equate wealth with power, abusing others if we are rich, and seeking political redress if we are poor. Some lay persons desire to do what priests do, while some priests feel so guilty about possessing a special power that they are uncomfortable in its exercise.
I am not ignoring the fact that those in authority can abuse power. Quite the contrary, both the abuse of power and the unfulfilled lust for it come from the same confusion—a failure to reflect truthfully on who we are and in what relationship we stand to others. Who we are is best determined in light of who God is, but even if we do not understand that relationship, we can understand that it is in the nature of persons to be relational. In fact only persons can enter into relationships, which makes relationality a defining element of who we are. Moreover, it is the nature of all relationships to be reciprocal. There is a giving and taking on both sides, and so the understanding of the nature of each relationship is the key to understanding the nature and limits of our authority. Within this understanding, the proper exercise of authority is essential to the well-being of those on both sides of the relationship. It is only here that power and authority become one, that no part of our power is tainted by a lack of authority.
The Contemporary Crisis
Despite the constant grasping at power for which our culture is known, we are quite wrong to assume that our relationships are necessarily most endangered either by the brutal exercise of power from above or by unreasonable demands from below. To the contrary, the permissive or ineffectual exercise of authority is also seriously disruptive. In the 1960's a historian named Crane Brinton published a landmark study demonstrating that revolutions destructive of the social fabric are most likely to develop and succeed when there is a debilitating crisis of confidence among the ruling class. The English, French and Communist revolutions were all variations on this theme. Their destructive force was unleashed in large part because those who ruled were unwilling to exercise the authority proper to their relationships in the socio-political order.
What is true of political life is even more true of ecclesiastical life, which adds to the mix a very specific sort of spiritual power. Not recognizing the nature of this power, some lay persons have demanded the right to "do" the sacraments. But a moment's reflection will remind us that the topsy-turvy character of much of contemporary Catholic experience is not fueled primarily by demands from the laity but by a crisis of confidence among the clergy. Whether we are talking about the false spirit of Vatican II, the chaos in many religious orders, the secularization of seminaries and Catholic universities, or the decline of parish life, what we have found again and again at the center is bishops and priests (usually men of rank and influence) who themselves had lost their understanding of spiritual authority. This created an identity crisis which rendered them incapable of exercising their power effectively.
Instead, they saw power as an unwarranted inequality, and they rushed to define their powers out of existence, flattening all spiritual relationships. They put themselves at the mercy of a revolution of their own making. And just as the resulting upheaval was caused primarily by a crisis of confidence among the clergy, so too will it be resolved only when the clergy once again understand who they are, and who the laity are, and the spiritual relationship between them. In this they will rediscover their authority. The proper exercise of priestly power will follow as surely as running water follows a thaw. Moreover, it is not just the priests who will become happier. So will the laity. Authority derives from relationships. Authority benefits both sides.
A Learning Experience
I once had an experience in the confessional which made me intensely aware of the proper relationship between priest and layman. I was telling my sins when the priest interrupted me in a way that I felt was somewhat rude and high-handed. He accused me of talking too much about extenuating circumstances instead of just humbly confessing that I had done wrong. I was astonished. This was a criticism I could easily recognize as valid for someone else, but...well, I put it to you. Me? Waste words?
My initial reaction led me to chuckle at his obvious misappraisal, explain that I disagreed with his assessment, and then to wonder aloud what this disagreement could possibly cost me. I will never forget his reply. Though not in precisely these words, he asked me if I could spell "absolution".
I don't think any life experience has brought me up short as quickly as this. The plain fact was that I couldn't get absolution from just anybody, not from my wife, and not from my most brilliant and dedicated colleagues. I couldn't get it from hyperactive lay people who love to give spiritual advice, nor from any of the sisters I knew, whether they were possessed of sound traditional spirituality or preferred to worship the Earth Mother. I couldn't get it from the most rebellious deacon in the diocese. Nor could I get it by quitting: Not by defecting to Protestantism, not by developing a new theory of sin, and not by getting in touch with my inner self.
The simple fact is that priests are different. They don't wield sacramental power through some convention I can break by "doing" my own reconciliation ceremony. They wield spiritual power because of who they are. And they wield it for me because of who I am. They have authority.
There is a larger lesson here. It seems to me that all of our relationships and institutions will continue to erode as long as we ignore the nature of authority. We must start not with power but with being, not with rights but with relationships. Mere power spoils both being and relationships. True authority enhances both. The result is a reciprocity that does more than produce order. It engenders love.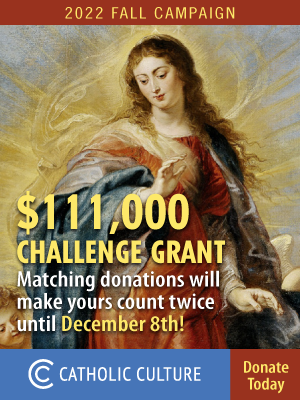 Sound Off!
CatholicCulture.org supporters weigh in.
All comments are moderated. To lighten our editing burden, only current donors are allowed to Sound Off. If you are a current donor, log in to see the comment form; otherwise please support our work, and Sound Off!