On the difficulty of knowing whom to believe, and what to do
By Dr. Jeff Mirus ( bio - articles - email ) | Jun 05, 2019
If the furor over Taylor Marshall's book does not tell us how hard it has become to know whom to believe and/or what to do, then I can point to two other contemporary issues (among many) which present the same problem.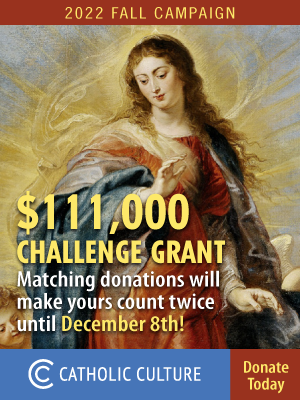 Whom to believe
First, on the problem of whom to believe, let me use a relatively minor instance. The Italian government has revoked the permit of the Dignitatus Humanae Institute to curate (and use) an historic site, the former Carthusian monastery of Trisulti. The government, which is not in the same hands as when the Institute was granted the permit, claims that the revocation was due to the failure of DHI to meet several significant requirements; but DHI, the honorary President of which is Cardinal Raymond Burke, claims that the action is a product of the culture war against the Christian way of life.
Now most readers of CatholicCulture.org would probably be sympathetic to the Dignitatus Humanae Institute, especially because its honorary head is a firmly orthodox American cardinal who has been a fearless exponent of counter-cultural Catholicism. For example, Cardinal Burke is not one to emphasize only culturally popular Catholic ideals, like fair treatment for minorities or care of the environment; he is equally comfortable defending unpopular truths, such as the sanctity of human life and the importance of sound sexual morality to both personal and social well-being.
But the reality is that we simply do not know the rights and wrongs of this story, and while we may certainly have instinctive sympathies, we are not—as good Christians—to reach conclusions without adequate evidence. We are not to assume that those who happen to agree with us are in the right, or even that they are telling us the truth, unless the evidence is in their favor. A good Catholic always exercises a certain restraint in committing himself to conclusions that go beyond his knowledge, until evidence becomes available that actually proves a conclusion, rather than simply fits a prejudice.
Good Catholics also avoid condemning even enemies for sins and crimes which merely "fit the profile" we have created in our heads. Our response to many allegations of sexual abuse falls into this category. The case against Australian Cardinal George Pell, which will now be retried publicly, was for a long time a classic example. With every fiber of my being I wanted to believe that Pell was being railroaded, and gradually significant evidence emerged which at least suggests this was the case. But for a long time we knew too little, and even now we must await further clarity in this case.
The principle here is that real Catholics don't assume good and evil, guilt or innocence based on interpretations which fit their own narratives or shore up their own worldview. They must seek real evidence before reaching conclusions—evidence, not mere interpretive assertions. This seeking requires not only the evidence itself but the humility, self-knowledge and personal restraint to dig it out and follow where it leads.
What to do
On the question of what to do, let me take a far more important case. A recent Gallup poll unsurprisingly reveals the extent of sexual and moral dysfunction in our society as a whole; see Birth control, divorce, premarital sex deemed 'morally acceptable' by majority of Americans. We learn from this the percentages of Americans who regard, among other things, three serious forms of immorality as perfectly acceptable: for birth control (92%); for sex between an unmarried man and woman (71%); and for gay and lesbian relations (63%). We know from other sources that the percentages are not dramatically lower among the generalized population identifying as Catholic (though they drop significantly in inverse relationship to the frequency of Mass attendance).
For this and many other cultural reasons, one of the chief questions which arises is how the minority of Catholics who believe what the Church teaches can find a mode of life which maximizes the happiness and ultimate salvation of both themselves and their children. The same questions arise throughout the West, and in many other places: Questions about employment and livelihood; public identification as a Catholic; the locations in which we live; the choice of neighbors and friends; education for our children; the selection of diocese and parish and sometimes even rite; patterns of daily life within the home; acceptable media and entertainment; the kinds of activities in which the various family members can participate; protection from outside influences; and many others.
One recurring source of anxiety is how to balance "material opportunities" against "spiritual dangers". This applies as much to adult employment and recreation as to the education and formation of children. At a macro level, there are questions about whether a family can afford to locate in a place that has a relatively strong Catholic community. We even wonder whether we should be joining specific Catholic movements that live apart from the rest of society (which minimizes the opportunity for being a leaven). And we worry about whether too much counter-cultural immersion in a Catholic system of life will trigger rebellion in young adults when they begin to chart their own course.
To make matters worse, if we are always tense and unyielding, negative and judgmental, about every orchestrated feature of our family lives, it probably will.
There are dangers and temptations on every side. I have been discussing these things with students and friends, and in my writing, since the late 1960s, throughout various stages of my own maturation as a Catholic, a parent, and a thinker. The answers have not gotten any easier, and it seems that here again we must be very slow in judgment, and very quick in prayer. Apparently, while good Catholics and successful Catholic families have a great deal in common that ought not to be ignored, one size simply does not fit all.
The lesson here—and it is an additional lesson that we must draw from the first example as well—is that our lives as single adults, priests, religious, parents and families must be lived in constant prayer and spiritual reflection. St. Paul wisely advised the Thessalonians to "pray always" or "pray constantly." But this clearly does not refer to liturgical prayer or even to any sort of formal or vocal prayer. Even the most wonderful liturgy will avail us nothing if it does not take root in our souls as an habitual praise of and reliance on Father, Son and Holy Spirit. Nor will a thousand rosaries or chaplets. Nor correct catechism answers, as valuable as such things should be in orienting us to God.
Nor being right about everything. Nor condemnation of those who do not possess our own obviously superior faith and rectitude.
Conclusion
Only when we acquire the interior habit of prayer, only when we are thus truly prayerful—that is, full of prayer—will we and our families learn to live in the peace and love of Christ. Only then will we and our families benefit others—even those who have not made the same choices we have made and who do not think "just like us"—and so begin to renew the Church.
When St. Paul tells us to pray constantly, he has reached the very center of his explanation of the Christian life. Here is the entire exhortation—after which there is really nothing more to say:
For God has not destined us for wrath, but to obtain salvation through our Lord Jesus Christ, who died for us so that whether we wake or sleep we might live with him. Therefore encourage one another and build one another up….
But we beseech you, brethren, to respect those who labor among you and are over you in the Lord and admonish you, and to esteem them very highly in love because of their work. Be at peace among yourselves. And we exhort you, brethren, admonish the idlers, encourage the fainthearted, help the weak, be patient with them all.
See that none of you repays evil for evil, but always seek to do good to one another and to all. Rejoice always, pray constantly, give thanks in all circumstances; for this is the will of God in Christ Jesus for you. Do not quench the Spirit, do not despise prophesying, but test everything; hold fast what is good, abstain from every form of evil.
May the God of peace himself sanctify you wholly; and may your spirit and soul and body be kept sound and blameless at the coming of our Lord Jesus Christ. He who calls you is faithful, and he will do it. [1 Thes 5:9-24]
Sound Off!
CatholicCulture.org supporters weigh in.
All comments are moderated. To lighten our editing burden, only current donors are allowed to Sound Off. If you are a current donor, log in to see the comment form; otherwise please support our work, and Sound Off!