Oh, the Things People Say...and the Importance of Discipline
By Dr. Jeff Mirus ( bio - articles - email ) | Apr 05, 2012
Pope Benedict went very far out of his way, at the annual Chrism Mass honoring the institution of the priesthood today, to criticize the group of dissident priests in Austria that is formally calling for disobedience to Church discipline and doctrine. Yesterday, Fr. Michael Graham, SJ, President of Xavier University in Cincinnati, decided to remove coverage of sterilization and contraception from that institution's insurance program. How did those affected respond?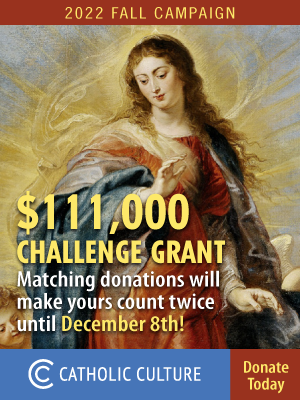 Well, they did not respond as Catholics.
In the second case, Fr. Graham was apparently jolted into increased awareness of the insurance question by the conflict between the USCCB and the Obama Administration. He made a straightforward statement:
As a Catholic priest and as president of a Catholic university, I have concluded that, absent a legal mandate, it is inconsistent for a Catholic institution to cover those drugs and procedures which the Church opposes.
Now, how would we expect Catholic faculty and staff to respond? Perhaps like this: "We applaud Fr. Graham's decision, which is not only in accord with the moral law, but enables the University to more faithfully fulfill its mission in the service of truth."
But how did the university's faculty committee in fact respond? Grudgingly and with deep expressions of concern about "process" and "independence". There certainly was no recognition that Fr. Graham's decision was a moral necessity, with no reason for extensive discussion and majority votes. Rather:
"If it comes from US Catholic Bishops, it is what it is."
"We are concerned over the precedent this may set in weakening the semi-autonomous status of our university."
"We…must convey our displeasure at the fact that [Fr. Graham] bypassed shared governance in this decision-making process."
This is called static. It obscures the key message. One can only presume that the faculty committee would have deliberately chosen to act immorally in order to maintain the appearance of being semi-autonomous and exercising shared governance.
In the case of the Holy Father, it was a very rare thing for him to deviate from a positive message of priestly conformity with Christ in order to rebuke a specific group of priests. The Pope emphasized that priests are consecrated in truth, and so the priesthood demands "a renunciation of what is simply our own, of the much-vaunted self-fulfillment." Then he launched his broadside:
Recently a group of priests from a European country issued a summons to disobedience, and at the same time gave concrete examples of the forms this disobedience might take, even to the point of disregarding definitive decisions of the Church's Magisterium, such as the question of women's ordination, for which Blessed Pope John Paul II stated irrevocably that the Church has received no authority from the Lord. Is disobedience a path of renewal for the Church? We would like to believe that the authors of this summons are motivated by concern for the Church, that they are convinced that the slow pace of institutions has to be overcome by drastic measures, in order to open up new paths and to bring the Church up to date. But is disobedience really a way to do this? Do we sense here anything of that configuration to Christ which is the precondition for true renewal, or do we merely sense a desperate push to do something to change the Church in accordance with one's own preferences and ideas?
Now what response would a good priest make to these questions? Surely a good priest would recognize them as rhetorical questions, with answers that require immediate reform. But what was the response of Msgr. Helmut Schüller, the head of the dissident group that issued the "Call to Disobedience"? Msgr. Schüller expects us to believe that he listened carefully but heard nothing but open questions: "I cannot see it as very sharp wording." More static.
The next step, of course, is for Catholic universities to revise their hiring policies and require faculty commitment to a very clear Catholic identity; and for those who criticize dissident priests (including the Pope) to follow up with effective discipline. I don't know how likely Xavier University of Cincinnati is to take the next step; the very fact that a Jesuit President decided the insurance question as he did is a remarkable step in the right direction. And in Austria, we know that just a few days ago, Cardinal Schönborn overruled a local pastor and insisted that an openly gay man living in a same-sex relationship must be allowed to serve on a parish council. So progress there is much like the proverbial pulling of teeth.
If they are really heard, signals from Rome can make a huge difference in the Church as a whole, as can signals from episcopal conferences in their own nations, and signals from bishops in their own dioceses. But until heads roll, signals are barely heard for all the static. Ultimately, only discipline cuts through static. The signals which make a difference are those that are followed by action: Signals that become orders; orders that are enforced.
Sound Off!
CatholicCulture.org supporters weigh in.
All comments are moderated. To lighten our editing burden, only current donors are allowed to Sound Off. If you are a current donor, log in to see the comment form; otherwise please support our work, and Sound Off!
Posted by: Barbnet - Apr. 17, 2012 6:47 PM ET USA

Hats off to Fr. Graham, President of Xavier University, Cincinnati. Cincinnati 100 years ago was heavily working class Irish/German-Catholic and still has a very large Catholic population. Catholics in the area are predominantly conservative in their religious, social, and fiscal attituedes. I am a graduate of Xavier.

Posted by: koinonia - Apr. 07, 2012 12:04 AM ET USA

Enforcement of discipline is a fulfillment of duty. This duty is particularly ominous for those charged with safeguarding souls. Our Lord's crucified body on Calvary- nearly two thousand years ago- bears testimony to the truth. This is no game, this charge to "Feed my sheep." The salvation of souls is serious business. Our Lord called satan "a murderer from the beginning." He redeemed us by His torn flesh and spilled blood. He responded to the Father with docility; Lucifer tried "static."

Posted by: John J Plick - Apr. 06, 2012 3:17 PM ET USA

Rome has had the authority...; She has never lost it, and neither have the Bishops...; they simply refuse to use it. There is such a thing a thing as clemency, and there is such a thing as neglect. Those who possess the authority and will not use it appropriately will have to answer for it, as Aaron did at the base of Siani.

Posted by: AgnesDay - Apr. 05, 2012 4:37 PM ET USA

My late step-grandfather, also from Austria had a saying: "The sign doesn't mean anything." Do you think it's genetic?