John Dryden—Two Poems in Honor of St. Cecilia's Day
By James T. Majewski ( bio - articles - email ) | Nov 22, 2022 | In Catholic Culture Audiobooks (Podcast)
Listen to this podcast on: Apple Podcasts | Google Podcasts
Episodes in this podcast beyond the most recent 15 are limited to Catholic Culture subscribers only. Log in or subscribe now (free) to get all the episodes!

This is a listener-supported podcast! Thanks for your help!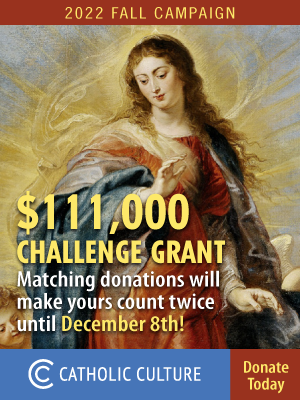 But bright Cecilia rais'd the wonder high'r;

When to her organ, vocal breath was giv'n,

An angel heard, and straight appear'd

Mistaking earth for Heav'n.
"A Song for St. Cecilia's Day" full text: https://www.poetryfoundation.org/poems/44185/a-song-for-st-cecilias-day-1687
"Alexander's Feast; or, the Power of Music" full text: https://poets.org/poem/alexanders-feast-or-power-music
Happy feast of St. Cecilia!
More links:
DONATE at http://www.catholicculture.org/donate/audio
Go to http://www.catholicculture.org/getaudio to register for FREE access to the full archive of audiobooks beyond the most recent 15 episodes.
Theme music: "2 Part Invention", composed by Mark Christopher Brandt, performed by Thomas Mirus. ©️2019 Heart of the Lion Publishing Co./BMI. All rights reserved.
Sound Off!
CatholicCulture.org supporters weigh in.
All comments are moderated. To lighten our editing burden, only current donors are allowed to Sound Off. If you are a current donor, log in to see the comment form; otherwise please support our work, and Sound Off!