It ain't news 'til it happens
By Phil Lawler ( bio - articles - email ) | Jun 18, 2019
This isn't serious complaint. It's more of a pet peeve. Still…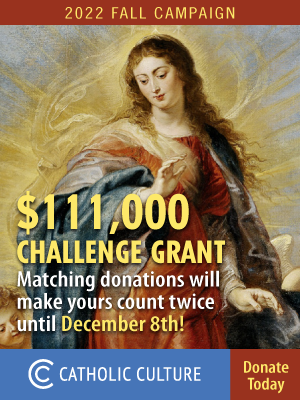 Here at CWN, I have a firm editorial policy: News isn't news until it happens. If you have a story about something that is going to happen soon, save it.
Sure, there are exceptions. Sometimes the mere mention of a forthcoming event is itself newsworthy. When Pope Benedict XVI announced his plan to resign, that was certainly news. When a Pope calls a consistory, that's news. But when someone plans a scholarly conference or an artistic exhibition, that's not necessarily news. If the event warrants coverage, the story should come after the event. Otherwise you're not actually reporting on the event; you're providing advance publicity.
However, the Vatican press office routinely sends out releases about forthcoming events, and holds press conferences to tell reporters what's going to happen. Thus today there was a press conference to discuss the International Youth Forum text, which will take place later this week. The press conference comes before the event, not during or after.
That's fair enough, I suppose, since the press office is in the business of generating publicity for Vatican events. But again, if the event warrants coverage, shouldn't the stories appear after the event?
And today, the Vatican press office provided a "News in Brief" summary, calling attention to:
the Time of Creation, to be observed beginning in September;
the introduction of a Video-Catechism of the Catholic Church, to be presented next week; and
a conference on Veritatis Gaudium, taking place in Naples on Thursday.
Three items, but no news. It ain't news 'til it happens.
Sound Off!
CatholicCulture.org supporters weigh in.
All comments are moderated. To lighten our editing burden, only current donors are allowed to Sound Off. If you are a current donor, log in to see the comment form; otherwise please support our work, and Sound Off!