Is It April 1st?
By Dr. Jeff Mirus ( bio - articles - email ) | Feb 05, 2009
As if to confirm the point I made yesterday in "And far too crazy", here comes Newsweek (2/9/2009) with a major three-page spread explaining what Benedict XVI is up to in this matter of the Society of St. Pius X. It seems that Benedict's whole purpose is to refashion the Church in the image of those on the conservative fringe, like Mel Gibson's legendary father and, of course, Mel Gibson himself, along with his equally offensive film, The Passion of the Christ.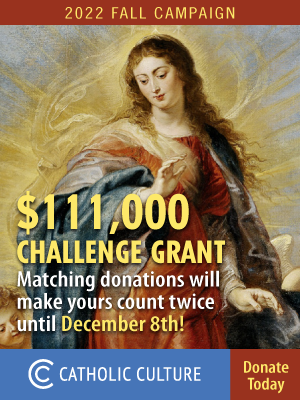 But then we notice that the essay in question was written by Christopher Hitchens, the self-proclaimed anti-theist and author of God is Not Great: How Religion Poisons Everything. Now, asking Christopher Hitchens to write a key interpretive analysis of what makes the Church tick is rather like asking Mel Gibson's father or SSPX Bishop Richard Williamson to give us an accurate portrayal of the Holocaust itself.
Granted, Newsweek is known for its extreme…um, let's call it density…in religious matters. Still, one would expect even Lord Macaulay's proverbial school boy to understand that to choose Hitchens for this job was to reveal not only a ferocious bias but a deliberate commitment to ignorance. Hoping for the best, and unsure whether jokes of this magnitude are allowed in February, I did what any alert reader would do. I checked the issue date to see if was April 1st.
Sound Off!
CatholicCulture.org supporters weigh in.
All comments are moderated. To lighten our editing burden, only current donors are allowed to Sound Off. If you are a current donor, log in to see the comment form; otherwise please support our work, and Sound Off!